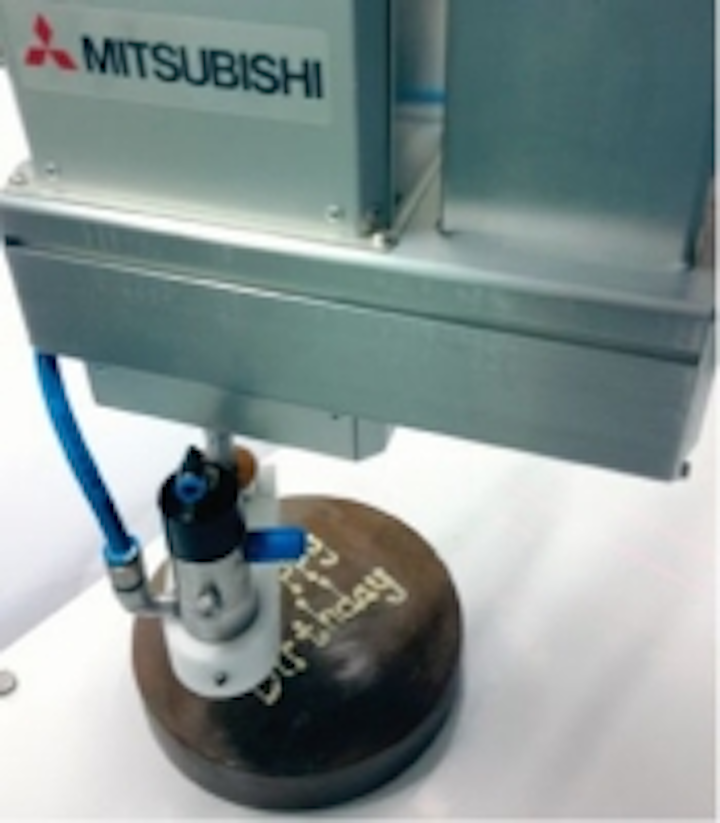 A joint project between Scorpion Vision (Tordivel), Mitsubishi Electric, and Quasar Automation has resulted in a 3D robotic vision system which adapts to the shape and surface profile of individual cakes to enable precise and consistent icing decoration.
The project combines multi-axis robots, 3D vision technology, and integration expertise to automate baked product decoration. Mitsubishi provided the robot technology, Scorpion Vision (Tordivel) provided the 3D machine vision system, and Quasar Automation created the system.
The solution utilizes the Scorpion Vision 3D Stinger Camera from Tordivel to scan the surface of the cake in less than one second. Inside the 3D Stinger Camera housing are two Sony XCG-V60E camera, one 10mW 660nm laser, and two 6 mm lenses. It has a GigE interface, is compatible with the latest 3D version of Scorpion vision software, and locates moving objects in 3D in real time.
Once the camera scans the surface of the cake, that data is used to calculate the robot path, and a dispensing nozzle maintains the optimum distance from the surface, eliminating any potential for damage. The Quasar system uses a precision motor linked to the robot controller as an auxiliary axis to provide proportional control during the icing dispensing process.
The collaborative effort received the 2013 Food Processing Award in the Robotics and Automation category. Jeremy Shinton of Mitsubishi spoke about the project in a DMA Europa press release, saying that the accurate application of a final decoration such as icing a very manual task, but this solution changes that.
"Mitsubishi Electric and Scorpion Vision have teamed up with Quasar Automation to create a decorative depositing method that takes into account the irregular shapes but maintains the depositor at a constant height above the work piece," he said. "With such accuracy the decorative icing is applied in a repeatable way. This allows the optimum time for the icing to set, often a critical issue in real-world production processes."
View a press release on the 3D robotic vision system.
Also check out:
Vision helps dairy spot slack cheese bags
Embedded vision system targets assembly line inspection
Is the one-armed UBR-1 the Model-T of robots?
Share your vision-related news by contacting James Carroll, Senior Web Editor, Vision Systems Design
To receive news like this in your inbox, click here.
Join our LinkedIn group | Like us on Facebook | Follow us on Twitter | Check us out on Google +