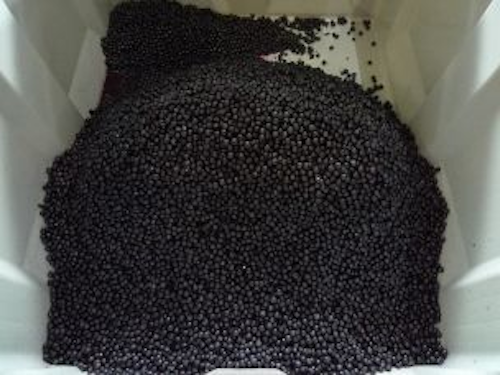 A team of researchers from the Fraunhofer Institute for Optronics, System Technologies, and Image Exploitation ( IOSB) have developed an optical sorting system that sorts a harvest of grapes into quality grades and removes unwanted objects, which saves winemakers time and energy.
Fraunhofer, along with Armbruster Kelterei-Technologie, Ingenieurbüro Waidelich and Geisenheim University, were funded by Germany's Federal Ministry of Economics and Technology BMWi to develop the "GrapeSort" system.
It begins when a harvest of grapes is passed through a feeding unit into a destemmer provided by Armbruster. They then are placed individually on a conveyor belt and carried by the belt past the IOSB's sorting module at a speed of 3 M/s where a high-speed line scan camera records the material flow and captures images of the fruit as it moves past.
IOSB imaging software evaluates the images in milliseconds and controls compressed air jets that blow foreign objects such as insects, vine shoots, stones, or twigs out of the material flow. An air ejection unit from Waidelich then removes bad or undesirable berries as the "good" berries fall into a container.
Dr. Kai-Uwe Vieth, a scientist at the IOSB, said in the press release that the module is designed to both remove objects and sort into various quality grades.
"[This] lets you create exactly the wine you want," says Vieth. The camera is trained in advance what to deem "bad". Mold, earwigs, leaves and the wrong degree of ripeness are typical rejection criteria. Sorting is done based on analyses of shape and color."
Several tons of grapes of the Trollinger, Riesling, Weißburgunder and Lemberger varieties pass through the sorting facility every hour, and the feedback from the project's partners suggests that the sorting system worked successfully in preliminary tests. An optimized functioning prototype that will serve as a basis for a production-ready facility is set to be tested for the first time in October 2013, and in June 2014, Geisenheim University viticulture experts who are providing their expertise to the project will taste the finished product.
View the press release.
Also check out:
FLIR infrared camera monitors keg filling production
Vision system improves ice cream production
Robotic factory automation system reduces costs, increases productivity
Share your vision-related news by contacting James Carroll, Senior Web Editor, Vision Systems Design
To receive news like this in your inbox, click here.
Join our LinkedIn group | Like us on Facebook | Follow us on Twitter