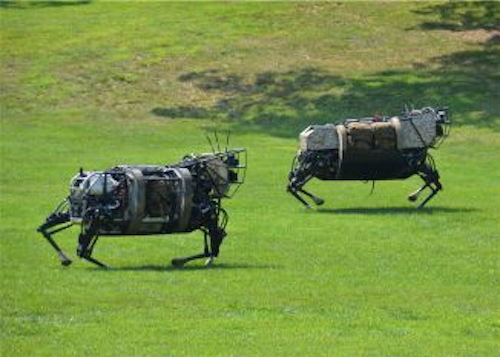 Over the past year, Google has acquired seven robot / technology companies and startups in an effort to take on a major role in the future of robotics. The companies are as follows:
This was reported in a December 4 New York Times article, which suggested that Google would initially focus its efforts on factory automation applications. Specifically, several specialists suggested that a realistic option would be for Google to use the technology for the automation of existing supply chain processes that stretch from the factory floor to companies that ship and deliver goods to a consumer's door step. (Or maybe a better way to put it would be to further develop the automation of existing supply chain processes, since many companies already utilize robotics.)
Google's most recent acquisition, however, is an interesting one, as the company has announced the acquisition of Boston Dynamics. The same Boston Dynamics develops stealth humanoid robots or ultra-fast "Cheetahs" for the military. It is interesting to note, as IEEE Spectrum points out, that the previous acquisitions were all start-up companies that were either new to, or looking to venture into robotics, whereas Boston Dynamics is has been around for a few decades, having produced a number of robots primarily for the military.
The question here would be, what exactly does Google intend to do with their newfound flagship position in the robotics community? Now, it could stand to reason that Google does in fact still plan to take these companies and further develop the technology and capabilities of robotics in the automation and manufacturing fields (which would only make sense), but the idea of humanoid robots like those from Boston Dynamics makes me believe that Google has larger plans for the role of robots in the future.
In fact, it would be naïve to believe that they don't. Aside from automation environments, robots can serve a vast number of purposes. We've seen or heard about a number of robots already in use or development that extend beyond the factory floor. A few examples include:
Beyond these ideas, robots could do a whole lot more. A few ideas, off the top of my head, include robotic soldiers, policemen, prison guards, customer service workers, fast food or convenience store clerks, or even *editors.
The last part, of course, is a joke. But you get the idea. What else could you see robots doing in the future? Let us know in the comment section or by emailing me here.