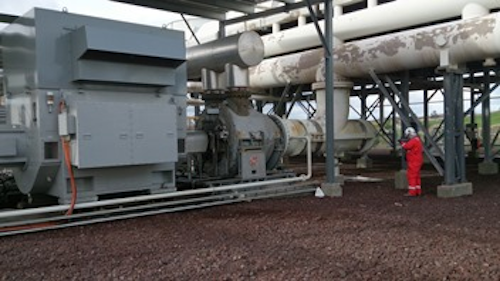 Inspectahire, an international supplier of remote visual inspection technology, has chosen FLIR GF320 infrared cameras to help detect fugitive hydrocarbon emissions in the offshore oil and gas industry.
Emissions may affect the safety, profitability, and environmental impact of assets for offshore oil and gas industries, so a result, they require the technology needed to detect these potential emissions. As a part of Inspectahire's advanced inspection solutions, which are in compliance with ISO 9001 best practice, FLIR's GF320 optical gas imaging cameras are employed.
GF320 cameras are designed to help the oil and gas industries detect these emissions, and are suitable for use in harsh industrial environments. The 320 x 240 pixel size cameras feature cooled InSb detectors with a spectral response of 3.2 μm to 3.4 μm and a thermal sensitivity of <15 mK @ +30°C (+86°F). In addition, the cameras feature a temperature operating range of -40°C to 350°C (-40°F to 662°F).
The infrared camera uses a focal plane array detector and optical systems tuned to narrow spectral infrared ranges, which enables the camera to image infrared energy absorbed by hydrocarbon gas leaks, according to the press release. Gases detectable by the camera appear on-screen as smoke plumes, providing operators a preventative maintenance tool to spot leaks in tanks, pipelines, and facilities.
FLIR's GF320 will be on display at the SPE Offshore Conference and Exhibition in Aberdeen, Scotland from September 3-6.
View more information on FLIR's GF320 cameras
View more information on Inspectahire.
Also check out:
Robot snakes inspect nuclear power plant
Machine vision system measures performance of swimmers
Robotic factory automation system reduces costs, increases productivity
Share your vision-related news by contacting James Carroll, Senior Web Editor, Vision Systems Design
To receive news like this in your inbox, click here.