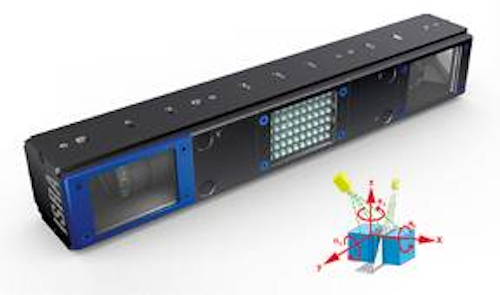 ISRA Vision's SHAPEMATCH3Dsensors are equipped for web-supported robot guidance that is used for 3D measuring with an accuracy rate for each dimension down to 0.01mm. The system allows 3D quality inspection of not only final assembly position and the assembly itself, but also the gap and transition measurements.SHAPEMATCH3D features LED illumination embedded in the sensor, standard GigE interface, and an intuitive graphic user interface. In addition, several sensors can be combined into a CONact SHAPEMATCH3D multi-sensor combination when dealing with particularly complex tasks. SHAPEMATCH3D provides extensive communication support through various bus interfaces for set-ups involving a variety of robots.

To Learn More:
Contact: ISRA VISION
Headquarters:Darmstadt, Germany
Product: SHAPEMATCH3D
Key Features: Accuracy rate for each dimension down to 0.01 mm, 3D quality inspection capabilities, LED illumination, GigE interface.
What ISRA Vision says:
View more information on the SHAPEMATCH3D.

View More Products
Locate a vendor or system integrator in Vision System Design's Buyer's Guide
Share new products that you think are particularly interesting or helpful by contactingJames Carroll, Senior Web Editor, Vision Systems Design.