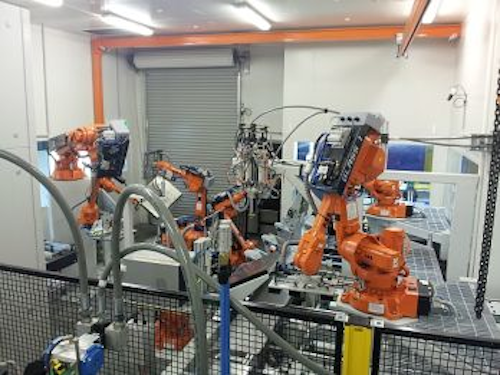 By implementing an innovative customized factory automation system that utilizes seven robots, an Australian manufacturer of household products was able to significantly increase productivity.

In order to compete with imports from low cost countries and meet target cycle times, Electrolux Home Products utilized factory automation company Leviathan Design to design, manufacture, and install an automated cell to bond metal trim and plastic columns to a glass panel to form a door outer assembly used in free standing household cookers, according to Manufacturing Monthly.
The system utilizes seven ABB robots that all perform separate tasks and work together in one compact, automated production cell. A key task of the robots oven bonding door cell is glass separation and paper removal. Robot grippers are used to separate the top sheet from the glass stack, and paper removal is provided by high velocity fans that create a vacuum to remove the paper.
Leviathan sales engineer Glenn Westonsmith said in the Manufacturing Monthly article that it is critical that glass and trim are accurately aligned for assembly of the doors, so glass and trim are placed on tables with small holes releasing air on them that provide a flotation cushion to reduce friction between glass and table.
Once the glass and trim are loaded, they are inspected by a vision system consisting of Cognex ISM1050 vision cameras with IP65 housing. These cameras acquire images at up to 500 fps with windowed acquisition and up to 100 fps at 1024 x 768. In addition, the cameras features built-in lighting, a custom CMOSimage sensor, four inputs and outputs, a C/CS-mount lens, and Power over Ethernet.
Following inspection of the doors, robot 7 picks the doors from the bonding cell onto the conveyor to be transferred to a storage buffer cell. Each of the seven robots performs a different task along the way within the bonding cell:
Robot 1 picks trim and places it onto the regrip station, then picks trim from the regrip station and places it on the assembly table.
Robot 2 plasma treats trim on regrip station for better silicon adhesion.
Robot 3 picks glass, confirms quality with vision system, applies label, checks label barcode with vision system, and places in regrip station.
Robot 4 picks columns, plasma treats columns, and places columns in regrip station.
Robot 5 picks glass from regrip station, applies silicon bead, and places glass on assembly table
Robot 6 picks columns from regrip station, applies silicon bead to columns, and places on assembly table.
Robot 7 picks assembled door from assembly table, places into curing over, and picks cured door from oven and places onto the conveyor.
As a result of the implementation of this automation system, Electrolux was able to achieve a target cycle time of 14 seconds which helps to reduce overall costs and increase productivity, according to Chris Henkens, senior manufacturing engineer at Electrolux.
View the Manufacturing Monthly article.
Also check out:
Vision automates jar inspection
Inspection system boxes clever
Robot lettuce pickers and the future of farming
Share your vision-related news by contacting James Carroll, Senior Web Editor, Vision Systems Design
To receive news like this in your inbox, click here.