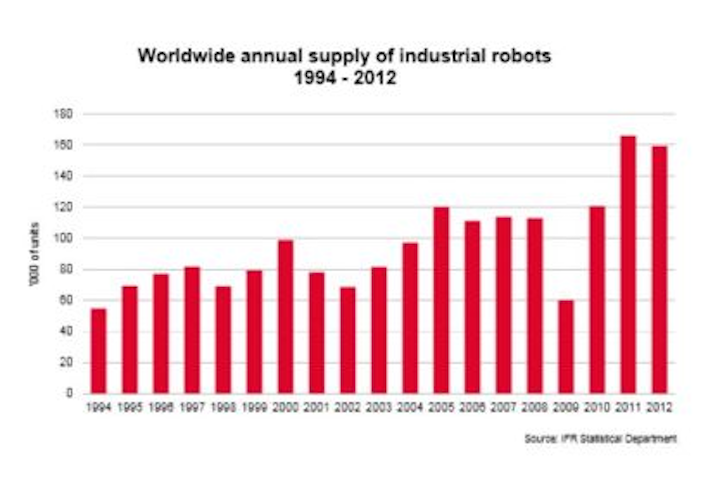 More than 159,000 industrial robots were sold globally in 2012, which is the second highest amount of all time, according to statistics released by the International Federation of Robotics (IFR).
Of the total about of robots sold, 70% went to Japan, China, the United States, South Korea, and Germany, with the following approximate amounts:
Japan: 28,700 units (Slight increase from 2011)
China: 23,000 units (Slight increase from 2011)
United States: 22,400 units (New peak level)
South Korea: 19,400units) Decrease from 2011)
Germany: 17,500 units (Decrease from 2011)
In addition, sales of robots in Thailand—which has a developing robot market—reached more than 4,000 units. Sales in central and eastern European countries declined while the Brazilian market continued to grow, and the market in India stagnated.
The overall decrease from 2011 to 2012 was mainly due to the decrease in sales to the electronics industry. Sales to the metal and machinery industry also dipped a bit, while sales of robots to the automotive industry, the chemical and rubber and plastic industry, and the food industry all saw increases in robot sales.
Global sales have increased each year by an average of 9% per year since 2008 as a result of automation trends around the world. The potential use of industrial robots in the general industry will grow substantially when robots can collaborate with workers and when the integration of the robot becomes easier, according to the IFR. It is estimated that robot installations will reach a similar level in 2013.
Editor's note: Press release available in English, German, and Chinese. View the International Federation of Robotics press release.
Also check out:
Three ways CSIRO's robots could advance manufacturing
Robots Leverage 3-D Machine Vision to Handle Auto Parts
Vision-enabled humanoid robot builds 3D visual maps
Share your vision-related news by contacting James Carroll, Senior Web Editor, Vision Systems Design
To receive news like this in your inbox, click here.