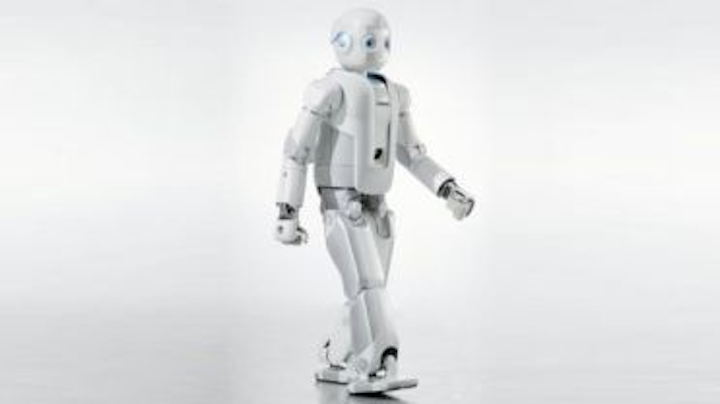 Researchers from the University of Bristol have developed computer vision algorithms that enable Samsung's Roboray robot to build real-time 3D visual maps to move around more efficiently.
The robot is equipped with a stereo camera that helps to build a map reference relative to its surroundings. It also has 53 different actuators, including six for each leg and 12 for each hand. The ability to build real-time maps for autonomous robot navigation is essential, especially in places where there are no GPS signals. It is considered one of the most advanced humanoid robots in the world, as it is able to walk in a human-like manner known as "dynamic walking," which means it is "falling" at every step, using gravity to move it forward.
The team of researchers has been working with Samsung Electronics in South Korea since 2009. From their experience with the University's 3D SLAM (simultaneous localization and mapping) project, the team was able to develop the rapid 3D visual mapping for the Roboray. This technology provides the robot with the ability to track and recover from rapid motions and obstructions, which is essential for when the Roboray is moving according to the University of Bristol press release.
Dr Sukjune Yoon from the Samsung Advanced Institute of Technology (SAIT), said in the press release that the SLAM project and other real-time visual technologies developed from the University of Bristol have been quite beneficial for the Roboray project.
"Mapping in real-time for a biped humanoid is much harder than for wheeled vehicles not only because there is less constant contact with the ground, he said. "In the near future, it is expected that humanoid robotic technologies will be able to provide a valuable service to society with robots working alongside people."
View the University of Bristol press release.
Also check out:
Machine vision a focus at Cornell Cup 2013
Vision-enabled subs will search for alien life
Share your vision-related news by contacting James Carroll, Senior Web Editor, Vision Systems Design
To receive news like this in your inbox, click here.