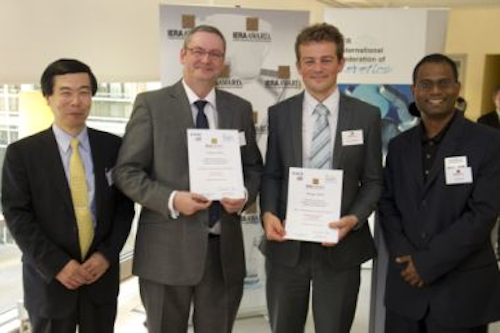 The Invention and Entrepreneurship Award in Robotics and Automation is given to highlight and honor the achievements of inventors who propel value-turning robotics and automation ideas into products. It underlines the determination of the co-sponsoring organizations—the IEEE Robotics and Automation Society and the International Federation of Robotics (IFR)—to promote collaboration between robotics science and the robotics industry.
This year's winner was the Tibion Bionic leg, a wearable, battery-powered, robotic mobility assistance device. It is used by physical therapists for patients with impaired mobility and is designed to strengthen stance and enhance both walking ability and active motor learning while protecting the user, according to an IFR press release.
The other two finalists for the award are as follows:
Intelligent grit-blasting robots for the surface preparation industry, in which robotics and automation technologies are combined to tackle dull, dirty and dangerous tasks, and to improve infrastructure maintenance.
The Thymio II educational robot, which is described as a product that motivates young students to enter science, technology, engineering and math disciplines.
Previous winners of the award include passenger-carrying industrial robotics, a flexible and eco-friendly robot arm, and a humanoid robot.
Read more about the Invention and Entrepreneurship Award in Robotics and Automation
Also check out:
Vision-guided robots will restore coral reefs
(Slideshow) Robots Join Forces with Vision Systems
Share your vision-related news by contacting James Carroll, Senior Web Editor, Vision Systems Design
To receive news like this in your inbox, click here.