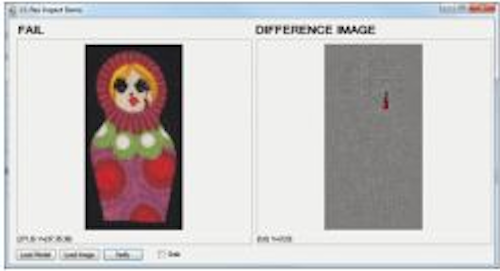 The CVB Flex Inspect from Stemmer Imaging provides an inspection tool for flat materials such as print and watermarks. In addition, the CVB Flex Inspect can be used to inspect textiles, which indicates, according to Stemmer, that it overcomes the limitations of comparing a sample under test to a golden template. Stemmer Imaging, which will exhibit at the Control Trade Fair 2013, says it designed the tool to overcome the challenges of product variation in print and pattern inspection.

Control 2013 booth: 1602

To Learn More:
Contact:Stemmer Imaging
Headquarters: Pucchiem, Germany
Product: CVB Flex Inspect
Key Features: Deformable template alignment tool, "learn" mode, "imagination" mode
What Stemmer says:
View a Stemmer Imaging press release.
Additional information:
View exhibitor list for Control Trade Fair 2013.
Share new products that you think are particularly interesting or helpful by contacting James Carroll, Senior Web Editor, Vision Systems Design