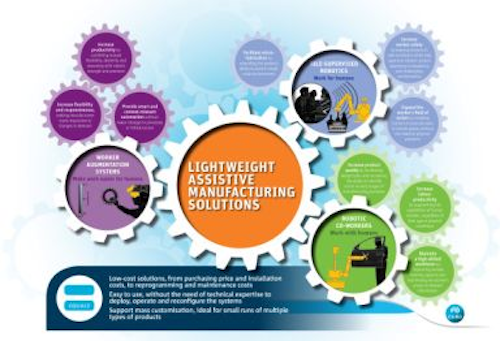 Current industrial automation is not flexible enough, is not designed for high volume, has low variation processes and is economically unviable for small and medium sized businesses (SME), which make up 99% of the industry, according to a white paper released during National Manufacturing Week by the Commonwealth Scientific and Industrial Research Organisation (CSIRO), Australia's national science agency.
As a result, CSIRO suggests that advances in robotics and information and communications technology, and subsequently machine vision technology, will enable what they call "lightweight assistive manufacturing solutions (LAMS).'' The concepts are designed to boost workplace productivity and increase overall competitiveness. The white paper looks specifically at the manufacturing sector in Australia, but it is not hard to see how the LAMS concepts discussed could have a global impact.
CSIRO explains the three scenarios in which LAMS will benefit a typical SME:
Worker augmentation systems. These LAMS would use tools such as wearable machine vision (i.e. Google Glass) or virtual or augmented reality systems to augment a worker during a production, assembly or quality phase. CSIRO suggests that these systems could improve product quality, increase labor productivity and help maintain a highly-skilled workforce.
Robotic co-workers. CSIRO suggests that robots capable of collaborating with and assisting humans on manufacturing tasks, such as mobile assistants, semi-autonomous manipulators and robot helpers, would increase productivity, flexibility and responsiveness and provide safe and smart automation.
Tele-supervised robotics. This solution would put workers out of harm's way in manufacturing or production conditions that are particularly challenging. It could provide scalability across a number of work cells and across a number of sites, and a new option to increase labor productivity and operational efficiency, according to CSIRO. In addition, CSIRO says this solution would expand the workforce's field of action and facilitate micro-fabrication by extending human capacity to work in small-scale environments.
Needless to say, CSIRO's LAMS concept would involve a great deal of machine vision and camera technology for these industrial automation solutions to work effectively and have a significant impact. Perhaps Google Glass will find its home in factory automation long before it becomes a mass-market consumer product.
Share your vision-related news by contacting James Carroll, Senior Web Editor, Vision Systems Design