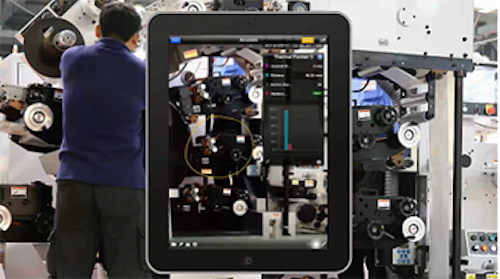 iQuest (Alpharetta, GA) has released details of its first US patent which covers an iOS app that displays data and resources associated with equipment it recognizes on the plant floor.

The iQagent app itself processes video footage captured by the camera in an iPad or iPhone and identifies one or more points of interest on a plant floor in the video footage through interpreting the QR codes associated with them.

Having identified a point of interest, relevant data and resources can then be overlaid onto the video displayed on the screen. It is also possible for a user to perform a screen capture as the iPad or iPhone displays the video footage and overlaid information.

"Workers simply view the process through their tablet or smart phone to access information they need to do their job. For instance, users can scan a motor to track its speed, or chart a production line's efficiency. They can check maintenance histories, consult schematics, report issues, or contact staff assigned to the area," says iQuest president Bob Meads, one of the inventors of the app.

Early adopters of iQagent include a global pharmaceutical company and a major US automotive manufacturer.

More details on the iQuest augmented reality patent can be found here. Further details on the app itself can be found here.
Related articles from Vision Systems Design you might also find of interest.
1. iPhone camera turned microscope diagnoses disease

A team of researchers from the University of California-Davis (Davis, CA, USA) has transformed an iPhone into a system that can perform detailed microscopy.

2. Researchers turn an iPhone into an otoscope

A pediatric medical device being developed at Georgia Tech (Atlanta, GA, USA) and Emory University (Atlanta, GA, USA) could make life easier for parents with children suffering from an ear infection.

3. Smartphone app tracks invasive plants

Bristol University (Bristol, UK) researchers have developed a new mobile phone app to help the public track the spread of invasive plants that pose a threat to biodiversity.

-- Dave Wilson, Senior Editor, Vision Systems Design