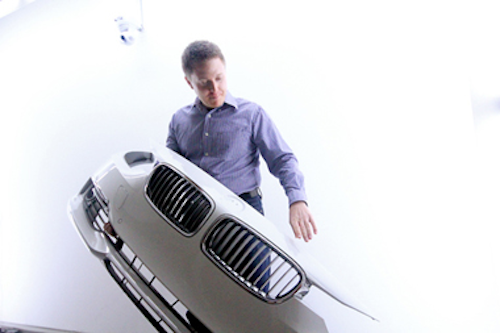 Researchers at theFraunhofer Institute for Optronics, System Technologies and Image Exploitation (Karlsruhe, Germany) have built an intelligent gesture detection system using two Microsoft Kinect cameras and a PC.

The system -- which was built on behalf of the BMW Group -- tracks the posture of an individual as well as the body of a car on a production line.

It enables an operator to identify defects on the body of the car simply by pointing at them. The location of the defects are then sent to an inspection station where they are stored for reference.

A prototype of the system is to be installed at the BMW plant in Landshut. Working in cooperation with quality control inspectors, Fraunhofer engineers will fine-tune the system onsite before it is deployed in a future production environment.

The gesture detection system will be presented at the 2013 Hannover Messe from April 8 - 12 in Hall 2, Booth D18.

Related articles from Vision Systems Design you might also be interested in.
1.3-D vision optimizes robotic car parking

Serva transport systems and in-situ Vision & Sensor Systems have developed a fully automated car parking system that makes use of more of the space in a parking garage by first identifying a vehicle and then transporting it to an empty parking slot using a self-guided robot trolley.

2.Vision system detects empty parking places

Researchers from the Department of Electrical and Electronic Engineering at the University of Malaysia (Gambang, Pahang, Malaysia) have developed a vision-based intelligent parking space detection system that could help motorists identify the free spaces in car parking lots.

3.Smart headlight could improve visibility for drivers

Researchers at Carnegie Mellon's School of Computer Science (Pittsburgh, PA, USA) have developed a system that eliminates the effects of precipitation by identifying where raindrops are located and reactively deactivating the rays of light from a headlight to avoid illuminating them.

4.Vision system helps automate car park management

An automatic license-plate recognition system has been developed by Niaar (Dubai, UAE) for plate recognition at check-point gates in multi-story parking plazas.

-- Dave Wilson, Senior Editor,Vision Systems Design