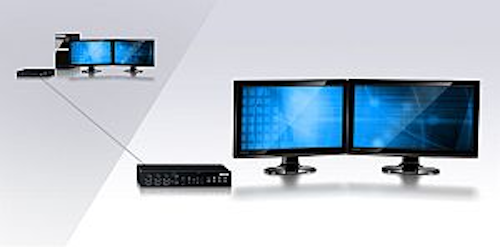 Matrox Avio Series fiberoptic KVM extenders extends two DVI single-link video signals with maximum resolutions of 1920 × 1200 pixels/60 Hz per display or one DVI dual-link video at 2560 × 2400 pixels/60 Hz. They are used in the process control, automotive, oil and gas, and government and military markets for visualization. Signals are transmitted up to 300 m in multimode and 1000 m in singlemode operation. The extenders have transparent USB 2.0 support for USB peripherals up to 480 Mbits/s and do not require driver or software installation. The devices are cross-platform compatible with Windows, Mac, and Linux/Unix systems.
Matrox Graphics
Montreal, QC, Canada
-- Posted by Vision Systems Design

---
NEW PRODUCT PRESS RELEASE
Introducing Matrox Avio Series: Dual-DVI Fiber Optic KVM Extender Solution Delivers Uncompromised Performance
Uncompressed dual 1920x1200 video, keyboard, mouse, and USB devices extended up to 1 km from the host computer
Montreal, Canada — Matrox Graphics Inc. today unveils Matrox Avio Series, a new line of fiber optic KVM extenders for graphics intensive design and visualization applications within the process control, automotive, oil & gas, and government and military markets. The KVM extender transmitter/receiver pair enables users to secure the host computer in a climate-controlled machine room by capturing the system's I/O functionality and extending it up to 1000 meters over a single fiber optic cable. The feature-rich Avio Series supports uncompressed dual single-link DVI or one dual-link DVI video—at full resolution and frame rate—keyboard, mouse, stereo analog audio, and multiple USB HID and USB 2.0 peripherals, while making available a secondary user to access the host computer from the transmitter unit. Avio's flexible design is compatible with Microsoft Windows, Mac OS X, and Linux/Unix operating systems, allowing IT departments to standardize on one solution for enterprise-wide deployments.
"Matrox is pleased to unveil a new line of fiber optic KVM extender solutions designed to meet our customers' highest system performance and image quality requirements," said Caroline Injoyan, Business Development Manager at Matrox Graphics, Inc. "We've brought our expertise in video graphics technology and fiber optic extension into this product and engineered a high-bandwidth, plug and play solution that maintains system performance at the remote desktop—critical for any high-end workstation application."
Key Matrox Avio Series features:
a.. Transmits keyboard, mouse, digital video, and analog audio signals up to 300m in multimode and 1000m in single-mode (optional upgrade)
b.. Extends two DVI single-link video with maximum resolutions of 1920x1200 60Hz per display or one DVI dual-link video at 2560x2400 60Hz
c.. Includes multiple USB HID ports for keyboard, mouse, and other HID devices
d.. Transparent USB 2.0 support for high speed USB peripherals (up to 480Mbps)
e.. DDC compliant and advanced EDID management ensure transparent communication between the system and the displays attached to the receiver unit
f.. Easy to deploy: does not require any driver or software installation and is cross-platform compatible with Windows, Mac, and Linux/Unix systems

Availability
The Matrox Avio Series fiber optic KVM extenders will be available in Q4 2011. For more information, visit www.matrox.com/avio_series_kvm_extenders or contact Matrox Graphics directly at graphics@matrox.com.
SOURCE: Matrox Graphics Inc.