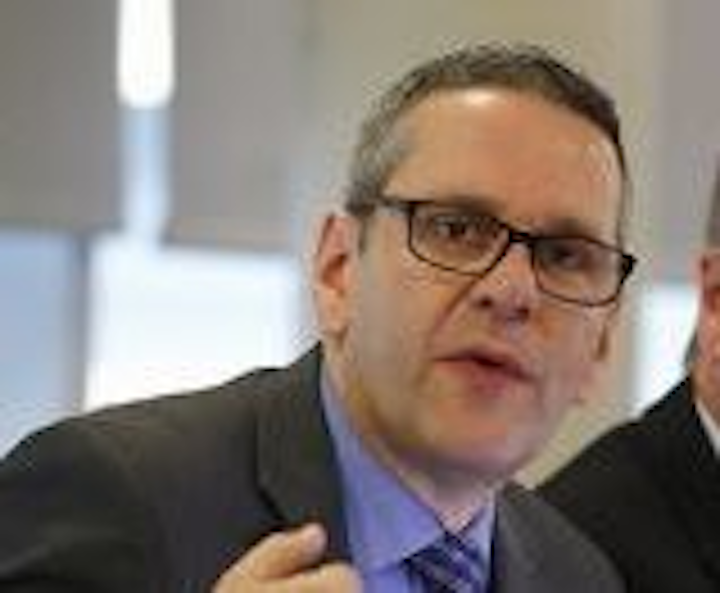 Newly-elected VDMA Robotics and Automation managing director Patrick Schwarzkopf recently discussed a number of industry topics with Vision Systems Design, including his nomination, the keys to industry growth, collaborative robots, and Google's recent robotics spending spree.
Schwarzkopf— who takes over for Thilo Brodtmann, who has become the new VDMA Executive Director—had previously served as deputy managing director for the association since 2004, and said that one of his goals is to make the association function as a more harmonious collaboration.
"One of my goals is to create more effective networking opportunities for our members to leverage more synergies. I also think it is important to rethink the work programme (sic) and approaches from time to time," he said.
He added, "As the world changes fast, association work has to evolve and constantly reinvent itself as well. One example: Standard conference formats may not be a fit for the future, as participants want more involvement and more interaction, so we have to create events that engage the members much more than they used to. This is a change I am very happy to drive forward."
The internationalization of the robotics and automation sector
The robotics and automation sector in Germany recently had an export ratio of 51% while the share of the sector turnover within Germany had been continuously decreasing, according to Schwarzkopf. However, this is not an indication of business in Germany contracting. Instead, it is indicative of other geographical markets (China, in particular) growing rapidly, which makes it clear that the major impetus for further industry growth comes from foreign markets, which Schwarzkopf calls the "internationalization process" of the robotics and automation sector. Placing an emphasis on the association's role in assisting its members in tapping into foreign markets, he cites the VDMA's global presence as a valuable resource.
"The VDMA has representative offices in Brazil, China, India, Japan and Russia that give the companies a very hands-on support in these countries. Joint booths, buyers' guides, symposia or management meetings are a few examples of our activities for expanding international business," he said. "Another figure is quite revealing: the German machine building industry has an export ratio of over 75%. So there is quite a potential for the robotics and automation industry to catch up."
Page 1 | Page 2