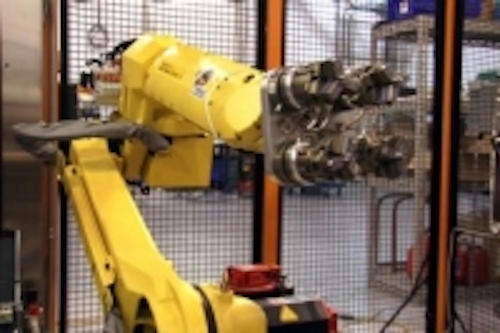 AV&R Vision & Robotics and IMAC Automation have announced that the two companies have officially completed their merger, resulting in AV&R, the world's largest aerospace industry robotics firm and one of the largest engineering firms specializing in automation in Quebec.
AV&R Vision and Robotics brings a specialty in robotics for the aerospace industry, where IMAC Automation develops manufacturing automation and die casting equipment. The merger will result in the company now offering areas of expertise in three main areas:
AV&R aerospace adds integration services to its expertise in automated visual inspection and robotic finishing, allowing it to automate complete production lines, thanks to the addition of IMAC Automation's veteran team.
AV&R will continue to serve IMAC Automation's existing customers in Quebec in their various sectors with AV&R-IMAC, adding to its local offer skills in machine vision and robotic finishing.
AV&R die casting expertise (formerly IMAC Die Casting) benefits from the offer of secondary operations integration in inspection or in robotic finishing to its product Cadence 100T and from the international notoriety of AV&R to set forth this innovative product.
AV&R will be led by Jean-Francois Dupont, co-founder and Chief Operating Officer of AV&R Vision and Robotics, who succeeds Eric Beauregard, who will now be involved in the company as a member of the Board of Directors. The merger was made in order to unite both companies' strengths and offer more complete automation, robotics and machine vision solutions.
AV&R is comprised of a team of 120 people, including 80 in the engineering department, all of which will focus on broadening the company's international scope in automation.
View more information on AV&R.
Also check out:
(Slideshow) Robots and research: Eight examples of innovative imaging applications
Google working with Foxconn on automation robots
Machine vision sales in North America double expectations in 2013
Share your vision-related news by contactingJames Carroll,Senior Web Editor, Vision Systems Design
To receive news like this in your inbox, click here.
Join our LinkedIn group | Like us on Facebook | Follow us on Twitter | Check us out on Google +