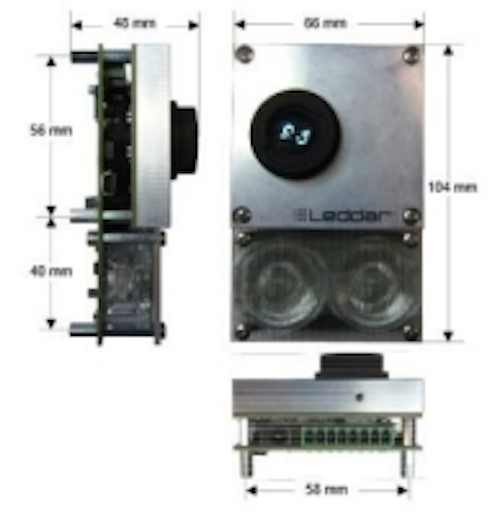 LeddarTech has a developed a new sensor that works similarly to lidar technology, except instead of lasers; it uses pulses from visible or infrared LEDs to perform time-of-flight measurements.
The sensor combines multiple independent active elements, typically 16, into a single sensor to provide measurements in the entire light beam without any moving parts. The beam and diffused light pulses of the sensor are processed with algorithms, which allow the detection of objects under various environmental conditions.
Leddar sensors feature an accuracy of 5 cm and a data refresh rate of 6.25 Hz to 100 Hz while operating in a temperature range of -40°F to 185°F (-40°C to 85°C). It also has a distance precision of 6 mm, a distance resolution of 10 mm, and power consumption of 4W. The sensor's beam ranges from 9° to 45° with a wavelength of 940 nm. For interfaces, the Leddar sensor features a USB, RS-485, and universal asynchronous receiver/transmitter interface.
Its latest sensor, the Industrial Leddar, is optimized for 0 to 165 ft. (50 m) detection and ranging, providing both distance and angular positioning while analyzing an area of 16 segments. It features a built-in "presence detection" mode, where the outputs can be set according to whether or not there are objects in the configured detection modes. In addition, it features a "teach configuration" mode, where the sensor uses the perimeter of its surroundings as the detection zone. All sensor measurements are acquired in real time through the RS-485 link. In addition, the Industrial Leddar features IP67 housing for integration into industrial applications, including factory automation, robotic navigation, and machinery applications, according to LeddarTech.
In a review of the sensor, Gizmag said that the Leddar was simple to set up, with driver software and an application (Windows 7 or later) that could visualize the results included. As far as the performance of the sensor is concerned, the review stated that the Leddar works exactly as advertised, having returned accurate and stable readings from walls, doors, and other objects. In addition, the author suggested that the low-cost Leddar sensor—with its high update rate object detection—could be suitable for use in robotics applications, safety zone monitoring in industrial machinery, traffic monitoring, and security applications.
View more information on the Leddar Sensor.
View a Gizmag review of the sensor.
Also check out:
Laser scanning and 3D imaging shows lava flow patterns
Five machine vision applications to keep an eye on in 2014
Reconstructing crime and crash scenes with 3D laser scanners
Share your vision-related news by contacting James Carroll, Senior Web Editor, Vision Systems Design
To receive news like this in your inbox, click here.
Join our LinkedIn group | Like us on Facebook | Follow us on Twitter | Check us out on Google +