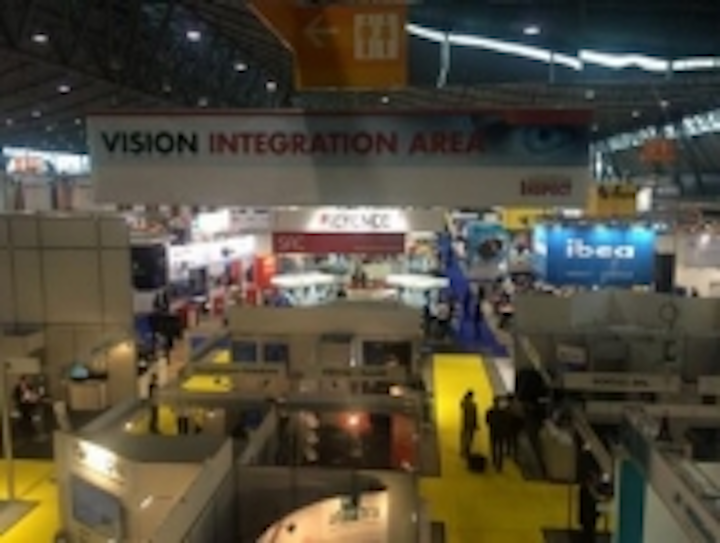 Specifically, I noted these figures, while also pointing out AIA statistics and individual company earnings reports (See an example here) show that the global industry is likely on the rise. As it turned out, most agreed that this is the case, citing reasons such as the development of new technologies and applications, improving economies, lower costs, and the growing need and requirements for automation.
In addition, people at the show seemed to be in good spirits about not only the industry, but the show itself. While some may have initially wondered about the move to a biennial cycle, a report issued by Messe Stuttgart shows that this year's show had a record number of exhibitors (432) and attendees (more than 8,700). This, according to the Messe Stuttgart, can be attributed to the increase of foreign exhibitors as well as the move to the every-other-year cycle. In short, the show was a success:
"Our expectations were exceeded by far," said Thomas Walter, Manager of Industrial Solutions Department at Messe Stuttgart.
Keep an eye on our site for article summaries of my individual meetings with such vision companies as: e2v, ProPhotonix, Baumer, Imperx, Euresys, IDS Imaging Development Systems, Allied Vision, Datalogic, Vieworks, Lumenera, ON Semiconductor, Metaphase Technologies, XIMEA, Kaya Instruments, and Xenics. In addition, look out for a forthcoming interview with Ritchie Logan of odos imaging, the winner of this year's VISION Award.
I should mention that if I missed you at VISION and you've got some interesting news related to the show (or just in general), please feel free to reach out to me by clicking here.
Share your vision-related news by contacting James Carroll, Senior Web Editor, Vision Systems Design
To receive news like this in your inbox, click here.
Join our LinkedIn group | Like us on Facebook | Follow us on Twitter | Check us out on Google +
Page 1 | Page 2