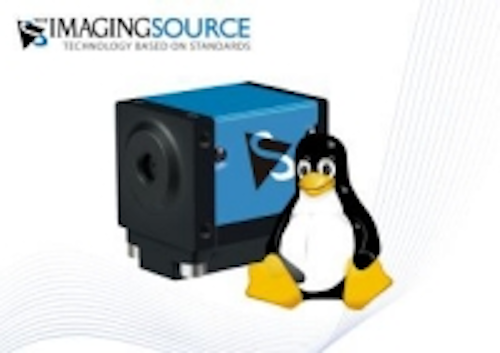 The Imaging Source has announced the immediate availability of open source Linux support for all of its cameras.
Released under the Apache License 2.0, the source code is available as an open source project and allows the integration of all cameras with GigE,USB, and FireWire interfaces into popular distributions, including Debian, Ubunti, CentOS, and Red Hat.
"We have seen customer demand for Linux support continually grow in the past few years," said Rolf Bollhorst, CEO and founder of The Imaging Source. "In the meantime, we work with Linux every day. Therefore, it makes sense for us to offer comprehensive Open Source software at GitHub.com to integrate our cameras into popular distributions. We look forward to the feedback from our customers."
Recent cameras released byThe Imaging Source include:
Five MPixel GigE board-level cameras with Power over Ethernet
The first in the series ofmonochrome cameras, the DMM 25GP031-ML, features a 1/2.5" MT9P031 Aptina CMOS image sensor, a frame rate up to 132 fps, and performance enhancements such as binning, windowing, and high-speed readout. The camera comes with IC Capture camera control and image acquisition software for Windows XP, Vista, 7, and 8 and also features drivers for LabView, HALCON, DirectX, Twain and WDM. The 5 MPixel GigE camera is suitable for use in industrial automation, traffic surveillance, quality assurance, medical, and CCTV imaging applications.
GigE cameras with integrated 12X and 30X motorized zoom
This new series of Power over EthernetGigE cameras with integrated 12x and 30x motorized zoom are available in 3 MPixel and 5 MPixel models, feature Aptina CMOS image sensors and achieve frame rates up to 15 fps in 5 MPixel mode. The 5 MPixel model can achieve a frame rate of 33 fps in full HD and up to 132 fps in VGA mode. These GigE zoom cameras from The Imaging Source are suitable for use in factory automation, traffic surveillance, quality assurance, medicine, logistics, and CCTV applications.
View more informationhere.
Also check out:
SPIE Photonics West 2014 preview: Cutting edge optics and photonics
AIA Vision Show preview: Machine vision solutions for a growing market
New VDMA Robotics and Automation managing director discusses the state of the industry
Share your vision-related news by contactingJames Carroll,Senior Web Editor, Vision Systems Design

To receive news like this in your inbox,click here.
Join ourLinkedIn group | Like us on Facebook | Follow us on Twitter| Check us out on Google +