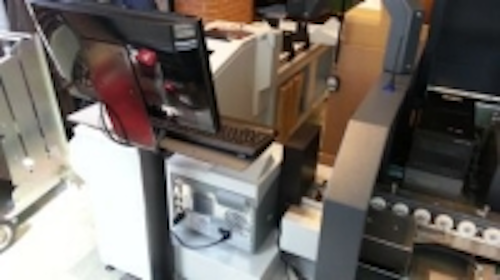 A manufacturer of inserting and mailing equipment recently found itself with a potential customer that required the capture of images of the front of stuffed envelopes and the acquisition of optical character recognition data from the address blocks. Having had a 10-year business relationship already established, the company sought the expertise ofindustrial automation consultant and system integrator Dan Houseman, owner of Savvy Engineering.
In this document scanning application, which required the capturing of data of envelopes of different sizes with address windows in varying locations, Houseman decided to useline scan cameras, as the most logical place to capture images was not large enough to use an area scan camera. For this, he chose Mightex TCE-1024-U line scan cameras. These 1024-pixel USB 2.0 cameras feature CCD image sensors with 14 µm x 14 µm pixel size that are capable of achieving frame rates of 25,000 fps in 8-bit normal mode and 10,000 fps in 12-bit normal mode, as well as 11,000 fps (8- and 12-bit, trigger mode). The cameras come with a software development kit in order to allow users to develop proprietary applications.
The cameras are mounted inside a custom housing along with custom-fabricatedLED strip lighting powered by the PC's internal twelve volt power supply. After the envelopes are stuffed and travel through the postage metering, they move through the scanner at a speed of 1300 mm/s.
"The line scanning could therefore be time-based and not require hardware line triggering," Houseman said. "The scan rate is slightly more than 10,000 lines per second in order to achieve a resolution of about 180 DPI, which is a good number for the OCR."
As the documents are scanned, the PC running the camera and LED lighting is running two custom apps that Housemen developed using the aforementioned software development kit from the Mightex cameras—one for theacquisition of images and the other for OCR purposes.
Theimage acquisition application dumps images as .jpegs into what is called the "hot folder," and the OCR app monitors the folder for new images, stores the OCR data in a database, and moves the image into a selected storage folder. The OCR app runs at a lower priority level than the image acquisition app so that images are not at risk of being missed, according to Houseman.
The images and data captured by the system are used as a "proof of mailing," which may be referenced at later date, should the need arise, and the stuffed envelopes are printed from scanned images as to eliminate the need to rely on a database.
View more information on theMightex cameras.
Also check out:
Industrial Inspection: Line-scan-based vision system tackles color print inspection
Modular vision system eases printed circuit board traceability
Putting instrument panels through their paces
Share your vision-related news by contactingJames Carroll, Senior Web Editor, Vision Systems Design
To receive news like this in your inbox, click here.
Join ourLinkedIn group | Like us on Facebook | Follow us on Twitter| Check us out on Google +