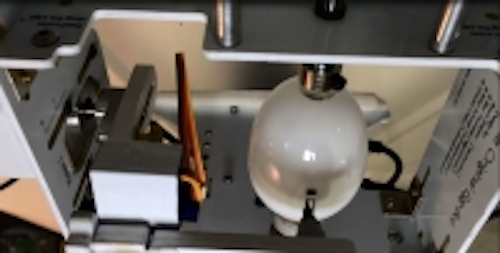 One of the more interesting and unique demonstrations at the recent AIA Vision Show took place in the IDS Imaging Development Systems' booth, where a robot system guided by a 5 MPixel USB 2.0 camera was used to draw the IDS logo and colorful patterns onto Easter eggs.
The demonstration used the IDS uEye XS USB 2.0 camera for visual guidance. Five MPixel uEye XS cameras feature 1/4" MT9P111 Aptina color CMOS image sensors with 10-bit color depth, 1.4 µm x 1.4 µm pixel size, and rolling shutter. The camera's sensor achieves a maximum frame rate of 30 fps running in free-run mode and 15 fps in full HDS color video. In addition, the camera features autofocus, automatic image control, sharpness control, and backlight compensation features, and also comes with software and a software development kit for Windows and Linux systems.
Using the camera for visual guidance, the robotic system plotted the IDS logo and colorful patterns onto Easter eggs. Live video was streamed from the camera via HDMI from an embedded PC on a 40" flat screen mounted to the demonstration system.
View more information IDS uEye XS cameras.
Also check out:
AIA Vision Show preview: Machine vision solutions for a growing market
Google continues robotic push with purchase of UAV company
MIT researchers develop algorithm for better robotic navigation and scene understanding
Share your vision-related news by contacting James Carroll, Senior Web Editor, Vision Systems Design
To receive news like this in your inbox, click here.
Join our LinkedIn group | Like us on Facebook | Follow us on Twitter | Check us out on Google +