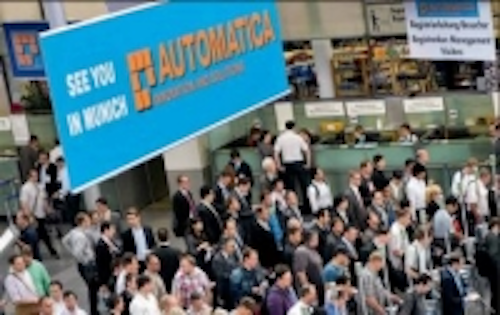 At the 6th annual AUTOMATICA international trade fair for automation and mechatronics, some 30,000 expected attendees from more than 100 countries will have the chance to interact and network with approximately 700 exhibitors from 40 different countries.
AUTOMATICA, which will be held June 3-6 at Messe München in Munich, will feature a platform for a wide range of automation and production-process innovations, including those involving robotics, assembly lines, and machine vision. Specifically, technologies expected to be covered at AUTOMATICA include:
Robotics
Industrial machine vision
Service robots
Sensor technology
Drive technology
Positioning systems
Software
Safety technology
Research and technology
Seen as a key technology and driver in the automation industry, machine vision continues to grow in sales as well as applications throughout the world. In a previous AUTOMATICA press release, for example, Patrick Schwarzkopf, Head of VDMA Industrial Machine Vision, said that a sales increase of about 5% is expected for Germany in 2014. With the machine vision industry growing consistently, the following vision-related trends and topics are expected to be discussed and on display at AUTOMATICA:
2D vs. 3D machine vision
CMOS vs. CCD image sensors
Smart cameras vs. PC-supported systems
The benefits of smaller, more efficient cameras and components
The role of USB 3.0
For this first time this year, AUTOMATICA will feature a separate exhibition area for the topic of service robots. This includes robots used in medical settings, for elderly care and individuals with disabilities, driverless transport, as well as agricultural service robots, such as those working in harvesting and farming, which are seeing a widespread boost in sales and usage as a result of the increased efficiency and productivity they provide. Consequently, an individual presentation on agricultural service robots will be made in the new exhibition sector for professional service robotics at the show.
Page 1 | Page 2