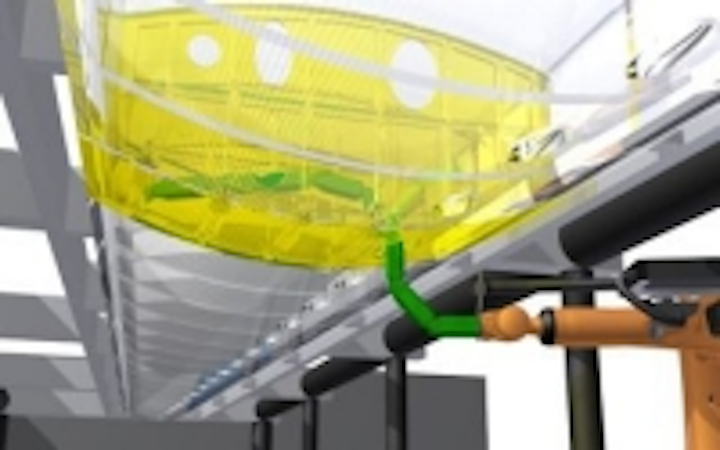 Researchers at the Fraunhofer Institute for Machine Tools and Forming Technology IWU have developed a snake-like articulated robotic system which may enable the automated assembly of aircraft wings.
While certain parts of the automated aircraft assembly process can be done with relative ease, the wing assembly portion of the process remains an issue, as the wings contain a complicated internal structure, according to the Fraunhofer Institute. These hollow chambers within the wing are accessed through narrow chambers 45 cm in x 25 cm in size, making it difficult for assembly workers to get in to fit bolts and seal joints. For each individual wingbox, approximately 3,000 drilling and sealing actions are required. As a result, Fraunhofer researchers have developed a robotic solution based on articulated robot arms that may be used to automate the process.
"The robot is equipped with articulated arms consisting of eight series-connected elements which allow them to be rotated or inclined within a very narrow radius in order to reach the furthest extremities of the wingbox cavities," said IWU project manager Marco Breitfeld. "That's why we often refer to the system as a snake robot."
Each of the robot's eight limbs is fitted with either the tool that is used for drilling and sealing, or an inspection camera, depending on the requirements. Each arm is 2.5m long and capable of supporting up to 15 kg in tools, in addition to its own weight. The robot is driven by an intricate gear system and a small motor is integrated into each one of the robot's arms. Used in conjunction with a cord-and-spindle drive system, each section of the robot arm can be moved independently and turned through an angle of up to 90°.
Fraunhofer researchers are currently testing the design and functions and will demonstrate the robot at the AUTOMATICA trade show in Munich from June 3-6. The research team is working to develop the system further.
Here are a few other examples of previous snake-like robotic applications:
View the press release.
Also check out:
(Slideshow) Five unique examples of industrial machine vision inspection
AIA Vision Show preview: Machine vision solutions for a growing market
Google continues robotic push with purchase of UAV company
Share your vision-related news by contacting James Carroll, Senior Web Editor, Vision Systems Design
To receive news like this in your inbox, click here.
Join our LinkedIn group | Like us on Facebook | Follow us on Twitter | Check us out on Google +