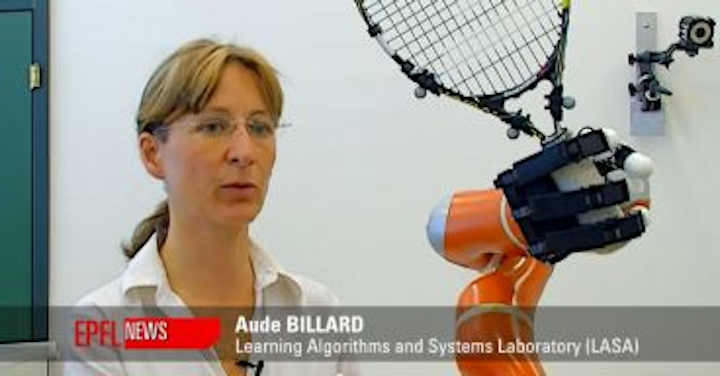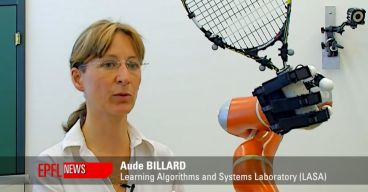 Researchers from the Learning Algorithms and Systems Laboratory (LASA) at École polytechnique fédérale de Lausanne (EPFL) have developed a robotic system that uses infrared cameras, motion analysis software, and set of six non-linear regression algorithms that enable a robotic arm to catch flying objects of various shapes in less than five hundredths of a second. The 1.5 meter KUKA Robotics arm used in the research has three joints with seven degrees of freedom and a hand with four fingers and stays in an upright resting position. It was programmed and designed to test robotic solutions for capturing moving objects of irregular shapes.
"Increasingly present in our daily lives and used to perform various tasks, robots will be able to either catch or dodge complex objects in full-motion, said Aude Billard, head of LASA, in an EPFL news release. "Not only do we need machines able to react on the spot, but also to predict the moving object's dynamics and generate a movement in the opposite direction."
As objects are thrown in the robot's direction, a series of infrared cameras captured images which provided position and orientation data of the tracked object at 250 Hz. The cameras used were Optitrack S250e global shutter infrared cameras, which feature an 832 x 832 pixel array and an adjustable frame rate of 30-250 fps. S250e cameras also feature Power over Ethernet, a 1 GHz processor, and 1GB of RAM. The camera runs on Windows XP, Vista, or 7 operating systems. Optitrack ARENA motion analysis software, which is based on 3D marker tracking, was also the software the team used for measuring the position and orientation of the object.
Page 1 | Page 2