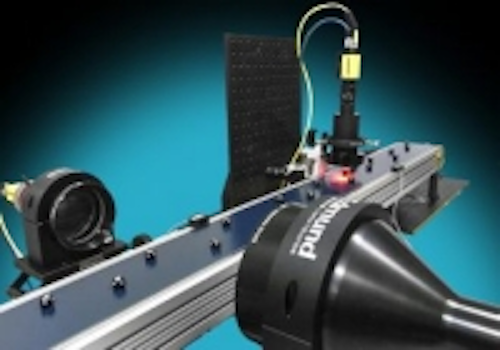 Edmund Optics will showcase an automated machine vision inspection system that features and compares its TECHSPEC Gold Series Telecentric lens to its TECHSPEC Hyperspectric lens at VisionChina 2014 from March 18-20 in Shanghai. TECHSPEC telecentric lenses, which are designed specifically for machine vision applications, feature a <0.2° telecentricity and are offered in either 2/3" or 1/2" format sensor sizes. TECHSPEC hypercentric lenses, which are suitable for use in component inspection applications, are offered in 2/3" or 1/2" format sensor size. Edmund Optics will also showcase its Compact Fixed Focal Length Lenses, which are suitable for use in factory automation applications.
VisionChina booth number: Laser World of Photonics Booth 1602
To Learn More:

Contact: Edmund Optics
Headquarters: Barrington, NJ, USA
Product: Telecentric and hypercentric lenses.
Key Features:Simultaneously image top and sides of an object, can be used as long working distance borescope (Hypercentric lenses), designed for machine vision, <0.2° telecentricity (telecentric lenses).

What Edmund Optics says:
View more information on TECHSPEC telecentric lenses.
View more information on TECHSPEC hypercentric lenses.

View More Products| Locate a vendor or system integrator | Receive e-mail updates
Share new products that you think are particularly interesting or helpful by contacting James Carroll, Senior Web Editor, Vision Systems Design.
Join our LinkedIn group | Like us on Facebook | Follow us on Twitter | Connect on Google +