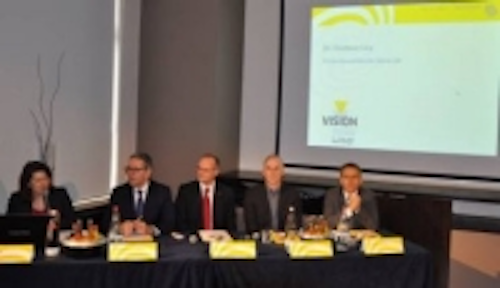 On February 4, industry leaders from all over the world gathered in Frankfurt, Germany to discuss the current state of the machine vision market as well as the development of future technologies in a CEO round table co-hosted by the VISION trade fair and the VDMA Machine Vision Association.
Industry representatives from Europe, the United States, and Asia gathered at the event to provide additional information and communication to one another following the switch of the VISION show from an annual to a biennial format. The following updates provide a summary of each continent's respective outlook on the machine vision industry:
European market
The machine vision market in Europe continues to outpace the growth of traditional industrial markets with the growing need for efficiency as the main driver, according to Mark Williamson, Director of Corporate Market Development for Stemmer Imaging. In addition, cost reductions for machine vision products are making the technology more affordable, which also drives growth and improves efficiency across various markets.
Williamson predicted this trend to continue strongly in the coming years.
"With the low labour (sic) cost countries taking manufacturing capacity out of the world economy, Europe, to stay competitive, has to use automation to keep costs low and keep efficiency high," he said in the press release. "Machine vision is a critical technology in automation that allows us to stay competitive in the world market. The quality of our products in Europe is essential and machine vision ensures that we deliver on that quality."
Donato Montanari, Machine Vision Business Unit General Manager for Datalogic Automation, Italy, noted that, as consumers become more conscious about product quality, businesses will be required to provide efficient and thorough inspections of their products. As a result, machine vision will grow.
"This [increasing need] is what machine vision is driving now and this is what is going to be driving machine vision the next ten to twenty years. The other implication of higher quality is that not only the companies who deal directly with consumers, but also the company who supplies to these companies, they have to have inspections in their lines because traceability of the products and traceability of the suppliers become clearly the key factor."
Page 1 | Page 2