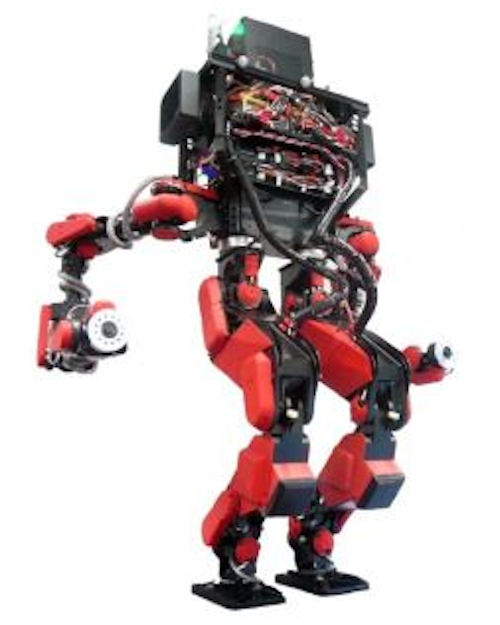 As many people may already know, Google has been on a robotics spending spree, acquiring eight robotic companies over the past year, including Boston Dynamics—a company that develops mobile robots for the U.S. military. The latest news—with concern to Google's new role as a robotics giant—is that the company is working with Taiwanese contract manufacturer Foxconn to develop a vision for the future of Google's robotics endeavors.
The news, as reported by The Wall Street Journal, is that Google's head of robotics Andy Rubin met with Foxconn Chairman Terry Gou to discuss new robotic technologies, with a focus on automation, as well as how the two companies could work together to help integrate a technology company that Google is set to acquire. Google's robotics efforts will reportedly focus on manufacturing, so Foxconn—the largest contract manufacturer of electronics devices in the world—makes sense as a partner for Google.
A recent roundtable discussion co-hosted by the VISION trade fair and the VDMA Machine Vision Association saw industry leaders from all over the world gather to discuss the current state of machine vision markets and technologies. In the discussions provided by the Asian representatives, it was suggested that rising labor costs and the addition of new technologies in China will increase the demand for automation, that the overall machine vision market is healthy and set to grow. With this being the case, the cooperation between Foxconn and Google makes even more sense, as Foxconn is reportedly looking to build factories equipped with robots and establish itself as a high-tech manufacturer, focusing on products such as automobiles and medical equipment.
"Foxconn needs Google's help to step up automation at its factories as the company has the lowest sales per employee among the contract makers, given its large workforce," said Wanli Wang, an analyst at CIMB Securities in the WSJ article.. "Using robots to replace human workers would be the next big thing in the technology industry. Not just Google, other major technology companies such as Microsoft and Amazon also have been developing robotics technology to capture the future growth opportunities."
In addition to this, The Wall Street Journal also says that analysts are expecting Google to build a new robotic operating system for manufacturers, similar to how the Android operating system was built for mobile computing devices. By doing so, Google would further strengthen its position in the robotics industry.
While no official plans have been laid out, it is becoming increasingly clear that a major portion of the impetus behind Google's recent acquisitions of robotics companies is to establish and perhaps even change the game, so to speak, when it comes to automation robots.
View the WSJ article
Also check out:
Google and the robot revolution
(Slideshow) 10 innovative current and future robotic applications
Robotics Industries Association to host first collaborative robots workshop at The Vision Show
Share your vision-related news by contactingJames Carroll,Senior Web Editor, Vision Systems Design
To receive news like this in your inbox, click here.
Join our LinkedIn group | Like us on Facebook | Follow us on Twitter | Check us out on Google +