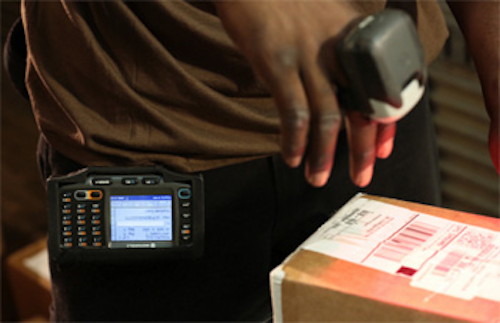 Logistics giant UPS is equipping its employees with wearable scanning systems to enhance the efficiency of its operations.
Each system, made by Motorola Solutions (Schaumburg, IL, USA) consists of a hands-free imager that is worn on a finger and a small terminal worn on the employee's wrist or hip.
The employee uses the ring imager to automatically scan barcodes on labels. Once acquired, the ring scanner sends each package's tracking information via Bluetooth to the terminal. The data is then transmitted over Wi-Fi to the UPS facility network and ultimately to UPS's global data centers to be stored and processed.
The data captured by the imager includes two-dimensional and traditional one-dimensional barcodes. These barcodes reside on all UPS shipping labels and contain pertinent shipment tracking information about the package destination. The imager reads the service level and ZIP code and verifies whether the package is being loaded into the proper trailer or air container.
An audible and visible alert identifies any package that's about to be loaded incorrectly to help UPS avoid service disruptions. The two-dimensional imager also has improved the tracking number read rate, reducing the need for key entry by employees.
UPS began deploying the new systems last year and 28,000 ring imager and terminal devices are currently in use at 480 facilities. The deployment will be completed by the fourth quarter of 2013 with more than 38,000 ring imager and terminal devices in use at 1,383 facilities.
-- Dave Wilson, Senior Editor, Vision Systems Design