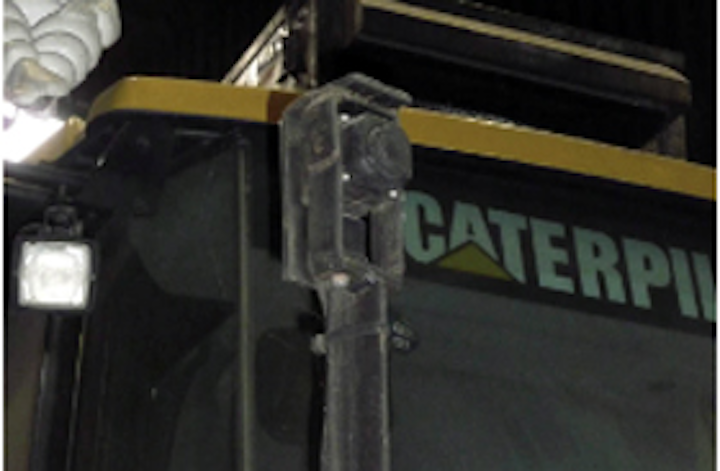 An organic waste processing company is using an infrared camera typically used to reduce the hazards of night time driving to ensure that organic waste is turned into compost in the most efficient way possible.

Before waste can be turned into compost, it needs to be fermented for a number of weeks in a hangar. During the fermentation process the heat rises to more than 60°C inside the waste piles killing any harmful bacteria. But to ensure that all the waste is submitted to this temperature, the piles of waste need to be turned regularly.

To determine which parts of the waste had been turned and which had not, Netherlands based Orgaworld (Amsterdam, The Netherlands) installed a PathFindIR system from FLIR Systems (Wilsonville, OR, USA) onto a small mast next to the cabin of a wheel loader that turned the waste. The PathfinderIR thermal imaging camera was then connected up to an LCD screen in the vehicle that was already being used to display images from its reversing camera.

When the loader is put in reverse, the image of the reversing camera is automatically displayed on the LCD screen. But when the loader moves forward, the thermal images from the PathFindIR camera are displayed on the screen. In that way, the driver can see if there are any obstacles in his way and, equally importantly, he can see if he is doing a good job at turning every part of the waste.

Convinced of the effectiveness of the cameras at its Drachten facility in the north of the Netherlands, Orgaworld is now looking to install them on the wheel loaders at its other facilities too.

Recent articles on thermal imaging that you might also be interested in reading.
1. Thermal imaging software detects drunks

Greek researchers have developed software to analyze images from thermal imaging cameras to objectively determine whether a person has consumed an excessive amount of alcohol.

2. Thermal imaging used to measure body fat

Scientists at Nottingham University (Nottingham, UK) are using thermal imaging to determine the amount of brown adipose tissue in the human body.

3. Bergy bits detected using thermal imaging

Thermal imaging cameras from FLIR Systems (Wilsonville, OR, USA) have been demonstrated to be an effective way of tracking icebergs in the Arctic waters, helping seafarers to find the safest path through the ice.

-- Dave Wilson, Senior Editor, Vision Systems Design