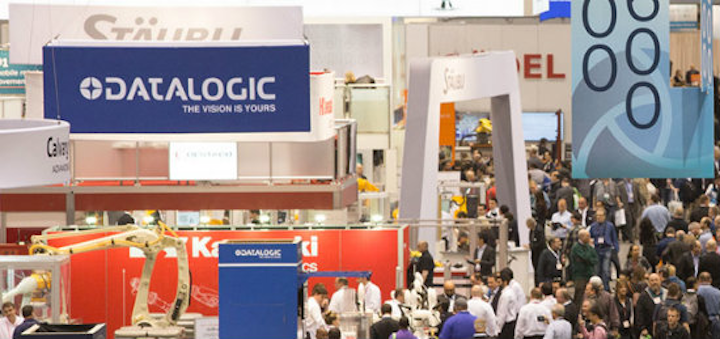 Robotics, machine vision, AI, and motion control, among other technologies, will set the agenda for the biennial Automate conference taking place April 8-11 at McCormick Place in Chicago, Illinois. Automate 2019 takes place alongside ProMat, the material handling and supply chain solutions show. The Association for Advancing Automation (A3) expects 20,000 attendees at Automate 2019, with over 500 exhibitors filling a 160,000 square foot show space.
The automation technologies being presented at Automate 2019 include:
· Automatic Identification & Data Collection/RFID
· Collaborative Robots
· Lasers
· Metrology
· Mobile Robots
· Motion Controllers
· Optics & Lenses
· Parts Handling Equipment/Conveyors
· PLCs
· Sensors & Feedback Devices/Systems
· Simulation Software
Three keynote speeches will take place at Automate 2019:
· On Monday, Karim R. Lakhani from Harvard Business School will present "Blockchain Technology For Supply Chains."
· On Tuesday, Reshma Saujani, Founder and CEO of Girls Who Code will deliver a presentation titled "Closing the Supply Chain Gender Gap."
· On Wednesday, Marcus Lemonis, CEO, Camping World, will hold a discussion titled "The Three Keys To Business Success - People, Process, Profit."
Automate 2019 is accompanied by an educational conference with professional sessions and certification programs. The conference agenda is broken into eight tracks:
· How to Automate
· Automation Solutions & Innovations
· Collaborative & Mobile Robotics
· AI, Digitalization & Smart Manufacturing
· Certified Vision Professional (CVP) Basic
· Certified Vision Professional (CVP) Advanced
· Certified Motion Control Professional (CMCP)
· Advanced Robotics for Manufacturing (ARM) Updates
Attendance to the Automate 2019 show floor is free of charge. Conference and training class access requires paid registration.
Other events at Automate 2019 include:
· Vision Systems Design Innovators Awards: The Vision Systems Design 2019 Innovators Awards program distinguishes and rewards the most innovative products and services in the global machine vision and image processing industry. The awards program will be held on Monday, April 8 at 10:30 a.m. in the show floor theater.
· The NextGen Networking Meet-up will take place Monday, April 8 from 5:00 p.m. - 6:00 p.m. in the show floor theater.
· A networking party will be held Tuesday, April 9 from 5:15 p.m. to 7:00 p.m. in the Vista Ballroom at McCormick Place. Tickets are $35.
· The Engelberger Awards Dinner will be held Wednesday, April 10 from 5:30 p.m. to 8:00 p.m. in the Vista Ballroom at McCormick Place. Tickets are $125 each, or a 10-person table can be purchased for $1,250.
· The Launch Pad Startup Competition will take place on Wednesday, April 10 at 3:00 p.m. in a show floor theater. Seven companies will pitch their technology to a panel of judges and finalists will be awarded booth space at Automate.
· Thursday, April 11 is dedicated to jobs in automation. Theater sessions will be held all day to connect exhibitors to new employees and exhibitors on the show floor will also be discussing job opportunities.
Share your vision-related news by contacting Dennis Scimeca,Associate Editor, Vision Systems Design

To receive news like this in your inbox, click here.