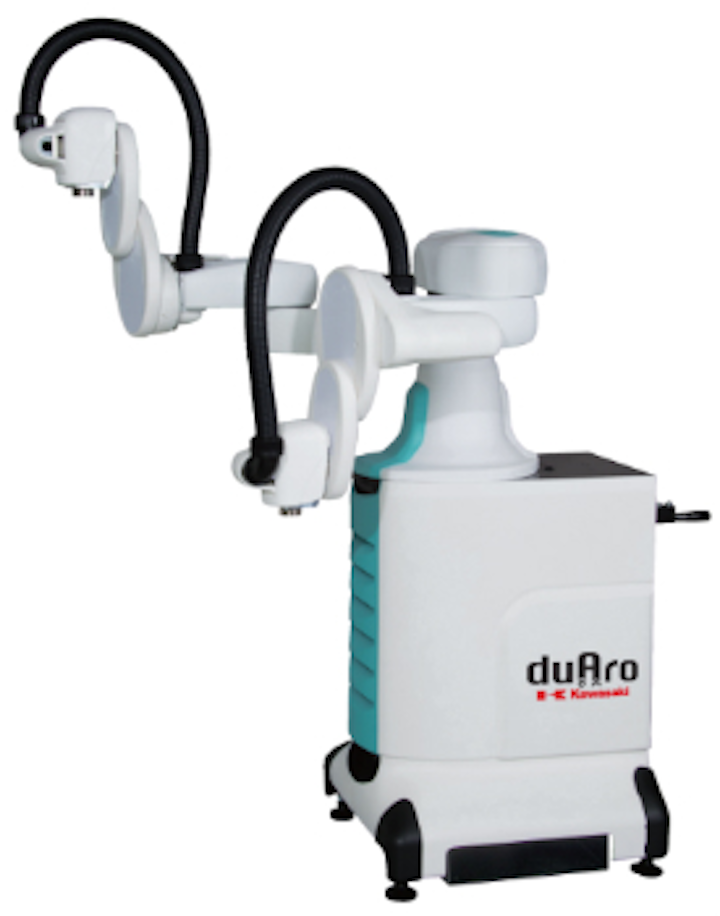 The duAro2 collaborative robot, being shown by Kawasaki at Automate 2019, is a dual-armed horizontal articulated robot that operates on a single axis, designed to fit into a single-person space. It features a vertical reach of 550 mm and a payload capability of 3 kg for each arm, enabling the robot to handle a total of 6 kg.
The new, Bluetooth-enabled F61 controller has integrated 2D vision capability and comes standard with the duAro2. The vision software supports multiple pattern registration, with results viewable on the robot's tablet. The F61 controller can collect data and link to the cloud, other robots or machines, tablets, vision cameras, and fieldbuses.
Kawasaki will show at Automate 2019 in Booth #7340.

To Learn More:
Contact: Kawasaki Robotics
Headquarters: Wixom, MI, USA
Product: duAro2 collaborative robot
Key Features: 550 mm vertical reach, total weight capacity of 6 kg, Bluetooth-enabled controller with integrated 2D vision.
What Kawasaki says:
View more information on the duAro2 collaborative robot.
Share your vision-related news by contacting Dennis Scimeca,Associate Editor, Vision Systems Design
To receive news like this in your inbox, click here.