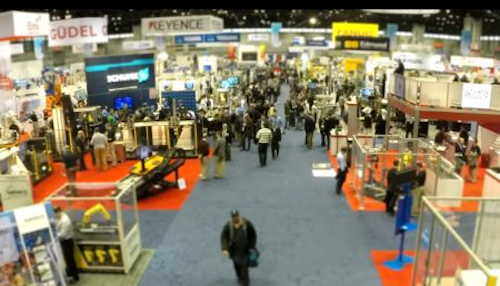 20,000 automation professionals from around the globe expected at Automate 2017
Held every other year by the Association for Advancing Automation (A3), Automate is set to once again bring together the global community of companies and individuals that specialize in automationtechnologies and solutions, including machine vision, robotics, and motion control technologies.

Known as North America's broadest automation event, Automate 2017 will be held once again at Chicago's McCormick Place fromApril 3-6. Automate offers a show floor exhibition that provides a look at the latest products and technologies from more than 400 exhibitors, including demonstrations of the latest robotics, machine vision, motion control, sensors, assembly, and other automation technologies. In addition, Automate is co-located with ProMat, a show that will offer the latest in material handling and logistics solutions.
Accompanying the Automate show is a comprehensive educational conference that features a broad array of classes, from beginner to advanced skills levels, which are taught by experienced industry professionals who understand the industry challenges that attendees face. Sessions will cover a wide range of topics, ranging from system integration and machine vision to collaborative robots and non-visible imaging technologies.
Automate will feature numerous other items of interest at this year's show, which are as follows:
Vision Systems Design Innovators Awards: The Vision Systems Design 2017 Innovators Awards program distinguishes and rewards the most innovative products and services in the global machine vision and image processing industry. The results of our awards program will be announced at 3:30 PM on Monday on the show floor.
Future of Automation Theater: For the first time at Automate, the Future of Automation Theater will provide a series of panels and presentations that explore automation trends. Programming will begin on Monday, April 3 at 10:30 AM.
First ever US-China Robotics Forum: A3 will host the first-ever joint US-China Robotics Forum on April 4, which will bring together the Robotic Industries Association (RIA), with its Chinese counterpart, the China Robot Industry Alliance (CRIA). The forum will feature several talks from industry leaders and will begin at 10:15 AM in the Future of Automation theater on the show floor.
Launch Pad Startup Competition: Startup companies (founded within the last five years that have raised less than $2 million since creation) involved in robotics, machine vision, and motion control are competing for a grand prize of $10,000. The competition, which is also part of the Future of Automation Theater, aims to generate awareness for these new technologies and help them find funding. See the finalists here.
Vision Standards Demonstrations: The International Vision Standards booth contains hardware demonstrations of all of the major vision standards and provides an opportunity to talk to experts about the standards.
Certified Vision Professional classes: Professionals in the machine vision industry can take classes that are required for the Certified Vision Professional (CVP) designation, which is offered at both basic and advanced levels. More information here.
Keynotes, networking events, and daily "Expert Huddles," which provide an opportunity to participate and learn from the collective expertise of your peers.
Approximately 20,000 attendees are expected at the show, including end users, OEMs, machine builders, distributors, government buyers, research and development professionals, and members of academia seeking automation technologies.
Keep an eye out for our Automate products preview, which takes a look at our coverage of many of the products that will be on display on the show floor.
View more information on Automate.
Share your vision-related news by contacting James Carroll, Senior Web Editor, Vision Systems Design

To receive news like this in your inbox, click here.
Join our LinkedIn group | Like us on Facebook | Follow us on Twitter
Learn more: search the Vision Systems Design Buyer's Guide for companies, new products, press releases, and videos