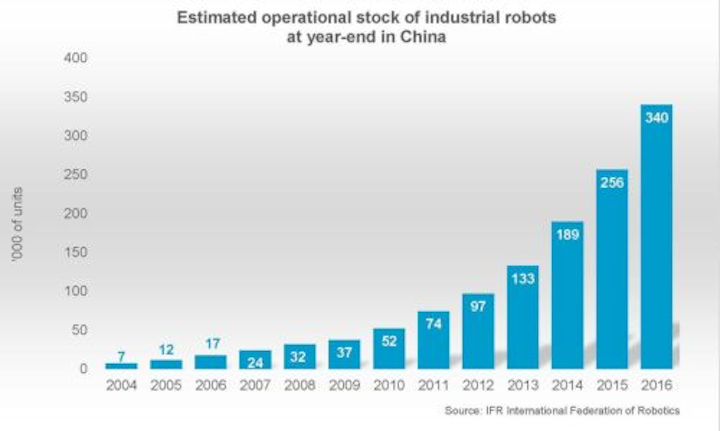 Last year, the annual sales volume ofindustrial robots in China reached the highest level ever recorded for a single country, as sales grew 27% to 87,000 units in 2016, according to the International Federation of Robotics (IFR).
From 2011 to 2016, the compound annual growth rate for robots in China was 31%, propelling it to the number one global ranking in terms of robotics markets in 2016. In addition, Chinese robot manufacturers expanded the market share in their home country.
"China is by far the biggest robot market in the world regarding annual sales and regarding the operational stock," said Joe Gemma, President of the IFR. "It is the fastest growing market worldwide. There has never been such a dynamic rise in such a short period of time in any other market."
Chiefly responsible for this significant growth are the electrical and electronics industry, as sales increased by 75% to almost 30,000 units in 2016, according to the IFR. About one-third of the robots were produced by Chinese robot suppliers, who more than doubled sales by almost 120%. In total, all international robot suppliers increased sales to the electrical and electronics industry by +59%.
While it has taken backseat to the electronics industry, the car industry is still a major driver of industrial robot sales. China, having become both the world's largest car market and the world's largest production site for cars, made up 25% of the global supply of industrial robots to the automotive industry in 2016. From 2011 to 2016, a total of 108,000 units were installed, representing an average increase of 18% per year. The market share of Chinese robot suppliers in the automotive industry is still on a rather low level but has increased from 10% to 13%, according to the IFR.
Looking forward, further growth in robotics in China seem likely, as the Chinese government wants to transform the country from a manufacturing giant into a world manufacturing power. This is according to the ten-year national plan "Made in China 2025," which includes plans for strengthening Chinese robot suppliers and further increasing their market shares in China and abroad. By 2020, according to the IFR, China intends to make it into the world's most intensively automated nations, with a targeted robot density of 150 units (150 units per 10,000 employees). For a reference point, South Korea has a robot density of 531, the US has a robot density of 176, and Germany has a robot density of 301.
View theIFR release.
Share your vision-related news by contacting James Carroll, Senior Web Editor, Vision Systems Design

To receive news like this in your inbox, click here.
Join our LinkedIn group | Like us on Facebook | Follow us on Twitter