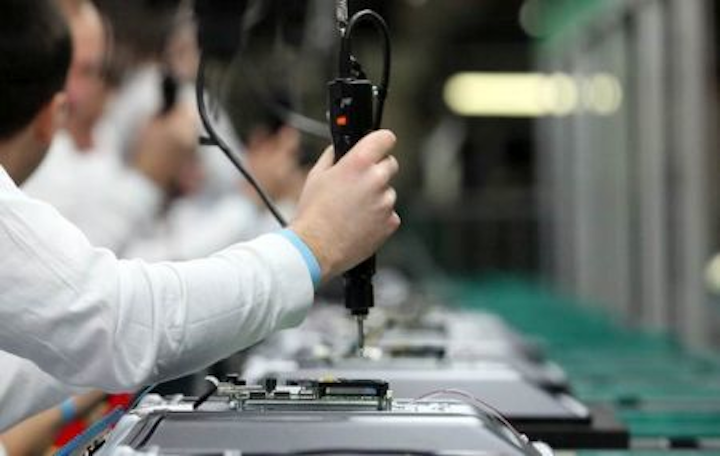 Instrumental, a company founded in 2015, has introduced avision system combining hardware and software components that leverages machine learning technology to help electronics companies improve their manufacturing lines, identify and fix problems faster and ship on time.
Anna-Katrina Shedletsky and Samuel Weiss, CEO and CTO, respectively, founded the company after spending years working together at Apple as engineers. During their time at Apple, the duo took notice of the time and money lost associated with assembly lines going down.
"After spending hundreds of days at manufacturers responsible for millions of Apple products, we have a deep understanding of the inefficiencies in the new product development process," said Shedletsky, who spent six years working at Apple prior to founding the company. "There's no going back, robotics and automation have already changed manufacturing. Intelligence like the kind we are building at Instrumental will change it again. We can radically improve how companies make products today and we hope to soon fundamentally change manufacturing as a whole."
Instrumental's system combines hardware—including camera-equipped inspection stations—along with software that incorporates machine learning algorithms. At the stations, images are capture at key points of assembly on the line, and these images are made remotely searchable and comparable. The system then learns and reacts to assembly line data so that engineers can act on issues.
A new machine learning feature called 'Detect' highlights units that appear defective. When used in combination with the rest of the company's software tools, engineers can use Detect to identify an issue and then take the next step by virtually disassembling concerning units and even taking measurements to understand what is wrong. In the coming months, according to the company, Instrumental will begin alerting engineers directly when it discovers anomalous units.
Customers—including Fortune 500 companies—have used the system to virtually disassemble 16,000 units and to take over 40,000 measurements, all remotely. Multiple customers, per Instrumental, have saved more than $350,000 in the first several months by using Instrumental to respond to issues.
"Outsourced manufacturing has produced significant benefits for the electronics industry, however, the lack of visibility and control often results in extended and expensive delays," said Lior Susan, managing partner at Eclipse Ventures and former manufacturing executive at Flextronics. "Instrumental's suite of products vastly improves efficiency via remote analysis functionality. Furthermore, by incorporating information garnered by the latest data-generating, automation factory solutions, Instrumental can build the closed-loop feedback system required to deliver on the promise of the factory of the future."

View more information on Instrumental.
Share your vision-related news by contactingJames Carroll, Senior Web Editor, Vision Systems Design

To receive news like this in your inbox, click here.
Join our LinkedIn group | Like us on Facebook | Follow us on Twitter
Learn more: search the Vision Systems Design Buyer's Guide for companies, new products, press releases, and videos