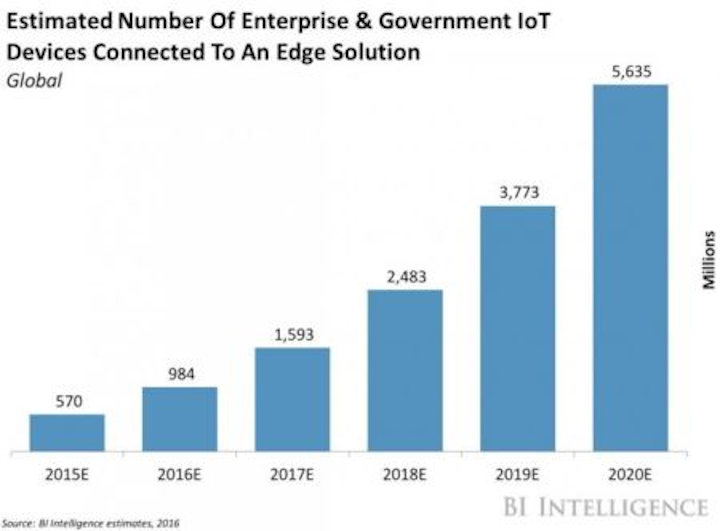 Roboticsspending will reach a total of $13 billion in 2025, and collaborative robots will be the main driver of this growth, according to a new report from the International Federation of Robots and Loup Ventures.
In 2016 collaborative robots accounted for just 3% of all sales, but by 2025, will grow to 34%, according to BI Intelligence, Business Insider's research service. BI Intelligence defines collaborative robots as small, nimble robots that are designed to work alongside humans on the factory floor. These robots are used to conduct more complex tasks than assembly line robots. Examples may include assisting a person in moving materials onto an assembly line for production.
As of now, according to BI Intelligence, these robots are slightly limited in their abilities to perform tasks that require close coordination with humans at a high level. Technological advancements, however, will make them more useful and will spur manufacturers to invest. Among other reasons, this will occur because these robots will be able to boost productivity, advancements in edge computing will make them more deployable.
Edge computing, where BI Intelligence says data is processed and analyzed locally rather than in the cloud, removes the need to transmit data to the cloud, and will grow to be connected to 5.6 billion Internet of Things (IoT) devices in 2020. This will allow companies to deploy more collaborative robots to their IoT deployments, thus fueling long-term shipment growth. IoT capabilities are disrupting businesses, governments, and consumers and transforming how they interact with the world. Companies are expected to spend almost $5 trillion on the IoT in the next five years, and the proliferation of connected devices and data increases has prompted an analytical revolution, according to BI Intelligence.
To better understand IoT, BI Intelligence conducted a global IoT Executive Survey on the impact of the IoT on companies around the world, which included more than 500 respondents from various industries, including manufacturing, technology, and finance, with significant numbers of C-suite and director-level respondents. Peter Newman, research analyst for BI Intelligence, conducted a study with in-depth research, and created a report on the IoT that provides a primer on the basics of the IoT ecosystem while offering forecasts for the IoT moving forward. Additionally, he looks at who is and is not adopting IoT and why, while highlighting drivers and challenges facing companies implementing IoT solutions.
View more information.
View a press release.
Share your vision-related news by contacting James Carroll, Senior Web Editor, Vision Systems Design

To receive news like this in your inbox, click here.
Join our LinkedIn group | Like us on Facebook | Follow us on Twitter
Learn more: search the Vision Systems Design Buyer's Guide for companies, new products, press releases, and videos