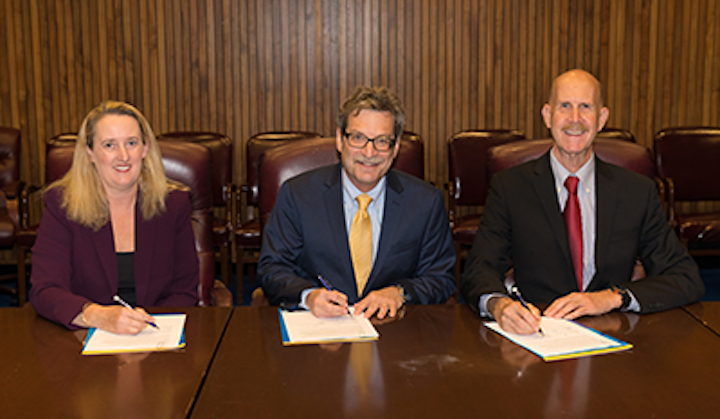 The Robotics Industries Association (RIA) has signed an alliance partnership with the Occupational Safety and Health Administration (OSHA) and the National Institute for Occupational Safety and Health (NIOSH), which will focus on communication and education about best practices in robotsafety.
"RIA has a long history of helping to keep around industrial robotics," said Jeff Burnstein, President, RIA. "We developed the first American national robot safety standard, R15.06, in 1986 and we've kept it up-to-date since then. This new alliance with OSHA and NIOSH will help us to continue advancing worker safety as more robots enter the workplace."
The new alliance aims to enhance technical expertise about robotics within OSHA and NIOSH as well as improve awareness of workplace hazards associated with traditional industrial robots and the emerging technology of collaborative robot installations and systems. Additionally, the alliance will aim to identify research that may be needed to help reduce workplace hazards, according to the press release.
"The robotics industry has a great track record of safety dating back to 1961 when the first industrial robot was installed," said Carole Franklin, Director of Standards Development, RIA. "We're trying to make sure every integrator and user of robotics in the country is aware of the best practices described in our R15.06 standard. This new partnership with OSHA and NIOSH will certainly help us in that effort."
The Alliance, according to the RIA, will foster technical exchange and information sharing about RIA members, OSHA, NIOSH, employers, and workers concerning hazards that may be present around industrial robot systems. It also aims to facilitate the sharing of information about how best to control exposure to such hazards during operations involving human interaction with robots in workplaces. Alliance participants will collaborate to develop technical training, resources, and tools for OSHA staff, NIOSH researchers, employers, and workers.
Pictured: Loren Sweatt, Deputy Assistant Secretary, OSHA; Jeffrey Burnstein, President, RIA; and Dr. John Howard, Director, NIOSH
Share your vision-related news by contacting James Carroll, Senior Web Editor, Vision Systems Design

To receive news like this in your inbox, click here.
Join our LinkedIn group | Like us on Facebook | Follow us on Twitter