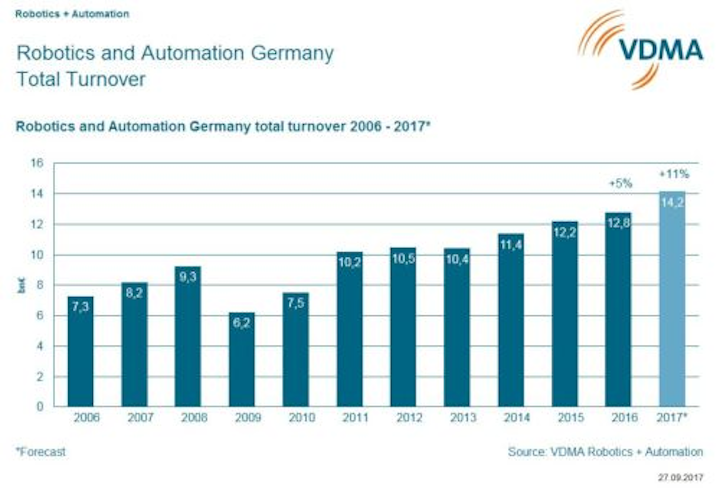 Having initially set aprediction of 7% growthfor the German robotics and automation industry, the VDMA has raised its growth forecast to 11%. As a result, total turnover will hit the new high mark of EUR 14 billion.
All three segments of German robotics and automation are experiencing strong growth in 2017, with machine vision achieving 18% growth in turnover over the initially-expected 10%. This represents a total turnover ofEUR 2.6 billion.
In German robotics, the initial projection of 8% growth was nearly doubled to 15%, with industry turnover projected at EUR 4.2 billion. These results, according to the VDMA, confirm recent statistics from the International Federation of Robotics (IFR), which indicate a global boom in robotics. Statistics from the World Robotics 2017 reportindicate that in 2016, global installations of industrial robots rose 16% to 294,000 units, and that in 2017, the number of units is expected to grow by 18% to 346,000 units.
By 2020, however, the IFR suggests that the number of units will grow to 521,000, representing an average growth per year of 15% between now and then. In 2016, Germany—the fifth largest market for robotics in the world—saw a slight increase in units, with 20,039 robots sold for the year. Like the VDMA, however, the IFR also predicts additional robotics growth in Germany in 2017.
Lastly, for the largest subsector of German robotics and automation, integrated assembly solutions, the VDMA forecasts a turnover increase of 6% to reach a new record of EUR 7.4 billion.
View the VDMA press release.
View the IFR press release.
Share your vision-related news by contacting James Carroll, Senior Web Editor, Vision Systems Design

To receive news like this in your inbox, click here.
Join our LinkedIn group | Like us on Facebook | Follow us on Twitter