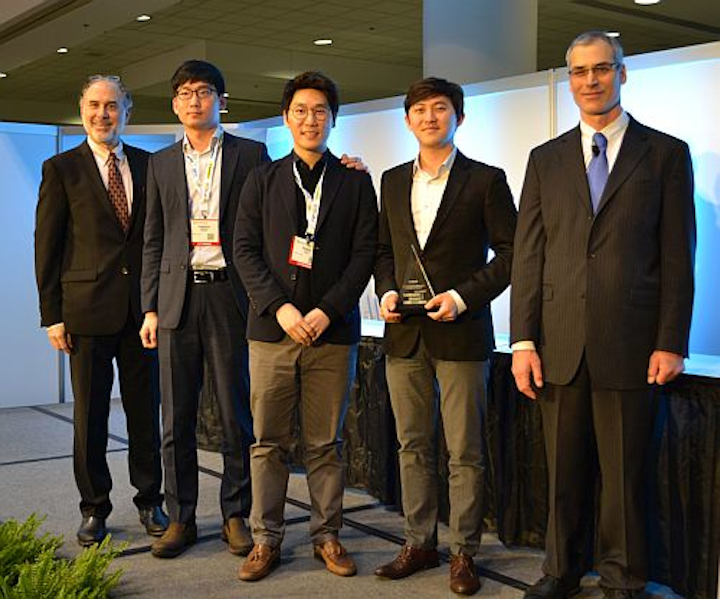 Accepting the platinum award from Alan Bergstein, Group Publisher (left), and John Lewis, Editor in Chief (Right), are Terry Moon, CSO; Hongsuk Lee, Business Development Manager; Donghee Lee, Vice President, SuaLab.
On April 3, we held areception on the show floor at Automate 2017 for our third-annual Innovators Awards program. This is a program that we launched to celebrate the disparate and innovative technologies, products, and systems found in the machine vision and image processing industry.
Our panel of judges, which can be seen here, assigned impartial ratings based on originality; innovation; impact on designers, systems integrators or users; fulfilling a new market need; leveraging a novel technology; and increasing productivity. Awards were given out in four different levels—Bronze, Silver, Gold and Platinum—to companies or organizations that demonstrated excellence in a product or technology, an application, or in research and development.
Taking a deep dive and describing all of these innovative products in depth would require too much reading, and too much writing, but instead, we wanted to provide some general thoughts and impressions from this year's crop of honorees.
First, if you take a look at the types of products being honored, you will notice a bit of a trend right away. In 2017, there were 6 honorees that developed products relating to machine learning or deep learning, or artificial intelligence of some type:
Editor's note: Read more about these honorees and their products here.
While both 2016 and 2015 included some honorees that developed AI or machine learning-related technologies, or at least products that were focused on algorithm development and not hardware, there is a much larger focus on the technology this year.
Additional technologies that saw an increased focus in this year's program were embedded vision (in products such as Basler's dart with BCON for LVDS interface and Silicon Software's VisualApplets 3.0 Embedder), multispectral imaging (Metaphase Technologies' Multispectral Illumination System) as well as10GigE and NBASE-T products (FLIR Integrated Imaging Soluton's Oryx 10GigE camera, and e2v's NBASE-T cameras, respectively.)
Looking toward next year, will we continue to see more machine learning and deep learning products? What about embedded vision or multispectral imaging? Just for fun, I asked John Lewis, Editor in Chief, his opinion.
Here is what he said:
I think we certainly will continue to see more machine learning and deep learning products, as well as embedded vision and multispectral imaging.
Though I've been following developments in machine learning and artificial intelligence (AI) for about 40 years, over the last few, the pace of development has definitely picked up. IBM has Watson; Amazon has Alexa; Apple has Siri; Salesforce.com has Einstein. Google, Facebook, Microsoft and Amazon have devoted research labs for AI and robotics.
With such heavy investment in AI, I expect much progress to be made in short order, and that machine vision and image processing systems developers will be able to leverage such developments as well, particularly in applications that must be able to deal with more unconstrained environments.
Embedded vision technology is also on the rise, and I expect it will enable a wide range of unmanned systems to behave more intelligently and responsively throughout the supply chain, adding value for both manufacturers and their customers and end-users.
Then we have the whole realm of the electromagnetic spectrum. There is x-ray, ultra violet, near Infrared cameras, Infrared cameras and there's even imagers now in the terahertz region of the spectrum. We now have many cameras available that are able to extend our capability of detecting electromagnetic radiation. And these imagers allow temperature to be seen and various materials to be easily identified among other things.
View more information on the Innovators Awards program.
Share your vision-related news by contacting James Carroll, Senior Web Editor, Vision Systems Design

To receive news like this in your inbox, click here.
Join our LinkedIn group | Like us on Facebook | Follow us on Twitter
Learn more: search the Vision Systems Design Buyer's Guide for companies, new products, press releases, and videos