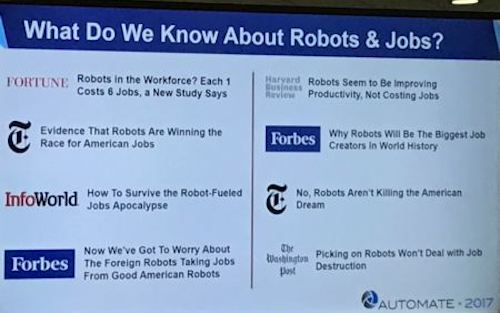 One of the major themes at Automate 2017, at least on the first day of the show, has been the underlying question of whether or not robots are taking all of our jobs.
In a forum that began on Monday morning of the show, industry experts gathered to discuss the topic. Jeff Burnstein, A3 President, kicked off the "Working in the Automation Age," forum with some interesting statistics that were an early indicator of how the collective group felt about the question of jobs and robots. In the United States, from 2010-2016, there were more than 136,748 new robot shipments, 894,000 new jobs, and an unemployment rate that went down 5.1%, Burnstein explained.
He also discussed the AIA's new white paper, "Work in the Automation Age: Sustainable Careers Today and into the Future," which goes in depth on the topic of robotics and jobs.
"We believe that more robots equal more jobs," said Jeff Burnstein, A3 President, before going into detail about the themes of the white paper, and how adjustments will have to be made if these jobs are going to be filled.
One of the large themes discussed in the white paper is the skills gap and the impact it will have. Skilled workers are key to companies' success and countries' economic development, and employers rank the availability of highly-skilled workers who facilitate a shift toward innovation and advanced manufacturing as the most critical driver of global competiveness.
However, explained the executive summary of the white paper, studies show an increasing skills gap as two million jobs going unfilled in the manufacturing industry alone in the next decade. Eighty percent of manufacturers report a shortage could cost US manufacturers 11% of their annual earnings. In fact, by 2025, 3.4 million manufacturing jobs will be needed, 1.4 million jobs are expected to be filled, but 2 million will be left unfilled due to the skills gap. Because of this, Burnstein told the audience, it will be important to bridge the skills gap.
"Employers, vocational schools, and universities are offering innovative training approaches that give workers alternatives to the traditional (and expensive) high-school-to-college-job route," said the AIA executive summary of the white paper.
This was validated, and discussed further, in the "Automation and Future of U.S. Manufacturing" roundtable that was hosted by the International Federation of Robotics. During that panel discussion—which will be covered in part two of this article—representatives from Amazon and GM, among others, discussed their company's training offerings, and why they think this is so important.
The skills shortage in US manufacturing was also discussed by Rebecca Hartley, Chief Workforce Development Officer, Advanced Robotics Manufacturing (ARM) Institute, which is funded by both the U.S. government, and by industry. There are multiple ARM innovation institutes throughout the country, which include involvement from industry, academia, government, and nonprofit/community colleges/and others. ARM focus areas area advanced technology development, national ecosystem/shared infrastructure, and workforce training and education.
U.S. manufacturing can be transformed through innovations and education and robotics technologies. The market projection is $24B by $2025, with the current market figure at $11B, according to Hartley. In order for the U.S. to be able to do so, education and workforce development is paramount. The objectives of such development, according to Hartley, is to establish an educational partner network with industry-recognized, stackable credentials; inform, educate, and support SMEs; train, certify, and offer internships; and to address diversity.
Hartley also touched on a few concepts for addressing the skills shortage in US manufacturing, including taking advantage of digital technology to make skills available anytime, anywhere; collaborating with educational institutions to upskill current employees and build a pipeline of future skilled workers; building standardized skill sets and employee engagement using certification programs; and utilizing apprenticeships to build a skilled workforce, among others.
View more information on the AIA.
Share your vision-related news by contacting James Carroll, Senior Web Editor, Vision Systems Design

To receive news like this in your inbox, click here.
Join our LinkedIn group | Like us on Facebook | Follow us on Twitter
Learn more: search the Vision Systems Design Buyer's Guide for companies, new products, press releases, and videos