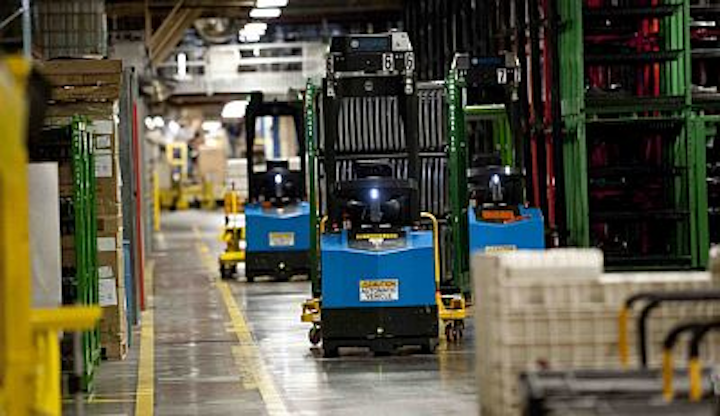 Seegrid, a company that develops self-driving vehicles for the materials handling applications, is now offering a hands-on training program to learn about managing and optimizing vision-guided vehicles (VGV).
While some fear automation will replace manufacturing jobs, Seegrid suggests that some jobs should be automated, such as highly repetitive, dirty, or dangerous jobs. Using robots in these instances is both safer and more efficient, and frees up human employees to fill new roles more suited to their talents, according to the company.
Believing that the key to automation adoption is education, Seegrid invites their customers to visit their headquarters in Pittsburgh, PA, USA for a two-day, intensive training program, which offers hands-on mechanics and troubleshooting training, as well as Seegrid Supervisor software training for managing the VGV fleets. This, according to the company, is a step towards fulfilling Industry 4.0 initiatives and ensuring the human workforce has a place in the new age of manufacturing.
"We understand the reservations that can accompany implementing new technology, especially when the solutions may change the way people do their jobs," said Jeff Christensen, vice president of product at Seegrid. "The acceptance of robotics within the workforce will rely heavily upon how we educate and train these employees to take on the new roles emerging with automated solutions. From fleet managers to robotic technicians, these new positions allow human workers to develop valuable skills that will propel them forward in their careers now and well into the future. Seegrid's robotics training program provides new opportunities for employees by empowering them with positions that allow them to utilize their creative and strategic-thinking skills."
View more information on Seegrid.
Share your vision-related news by contacting James Carroll, Senior Web Editor, Vision Systems Design
To receive news like this in your inbox, click here.
Join our LinkedIn group | Like us on Facebook | Follow us on Twitter
Learn more: search the Vision Systems Design Buyer's Guide for companies, new products, press releases, and videos