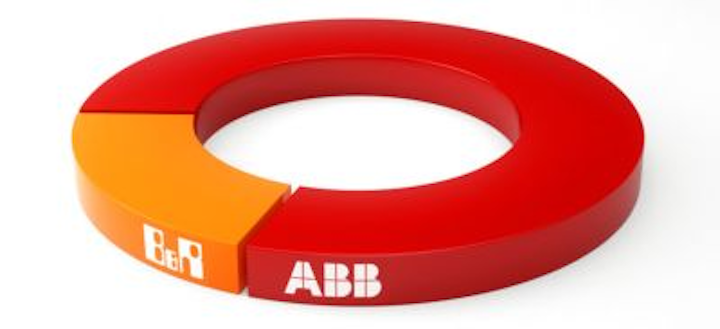 International robotics company ABB has announced that it has acquired Bernecker + Rainer Industrie-Elektronik (B&R), a factory automation company that specializes in controller, visualization and drive technologies in a deal that is rumored to be near $2 billion.
Founded in 1979 and headquartered in Eggelsberg, Austria, B&R employs more than 3,000 people, including about 1,000 research and development employees. It operates across 70 countries, generating sales of more than $600 million (2015/2016), and delivered a revenue compound annual growth rate of 11% over the last two decades. In addition to product offerings such as industrial PCs, programmable logic controllers, and servo motion-based machine and factory automation, B&R's software and Internet of Things solutions are expected to strengthen ABB's digital offering, ABB Ability, according to a press release.
B&R's management and founders will support the integration phase as advisors, and the company's headquarters in Eggelsberg will become ABB's global center for machine and factory automation.
"B&R is a gem in the world of machine and factory automation and this combination is a once-in-a-lifetime opportunity. This transaction marks a true milestone for ABB, as B&R will close the historic gap within ABB's automation offering. This is a perfect fit and will make us the only industrial automation provider offering customers the entire spectrum of technology and software solutions around measurement, control, actuation, robotics, digitalization and electrification," said ABB CEO Ulrich Spiesshofer.

He continued, "This acquisition perfectly delivers on our Next Level strategy. With our unique digital offering and our installed base of more than 70 million connected devices, 70,000 control systems and now more than 3 million automated machines and 27,000 factory installations around the world, we enable our combined global customer base to seize the huge opportunities of the Fourth Industrial Revolution."

Josef Rainer, co-founder of B&R, also commented: "This combination offers fantastic opportunities for B&R, its customers and employees. We are convinced that ABB offers the best platform for the next chapter of our growth story. ABB's global presence, digital offering and complementary portfolio will be key for us to further accelerate our pace of innovation and growth," he said.
With the deal, ABB will expand its industrial automation offering by integrating B&R's products and providing its customers a comprehensive, open-architecture automation portfolio, according to the company.
View more information on B&R.
View more information on ABB.
View the full press release.
Share your vision-related news by contacting James Carroll, Senior Web Editor, Vision Systems Design

To receive news like this in your inbox, click here.
Join our LinkedIn group | Like us on Facebook | Follow us on Twitter
Learn more: search the Vision Systems Design Buyer's Guide for companies, new products, press releases, and videos