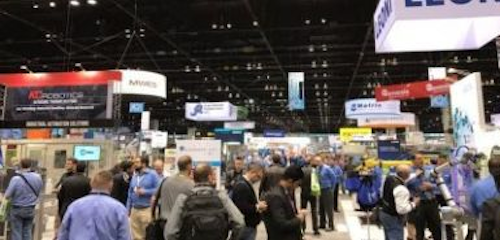 With Automate 2017, the Association for Advancing Automation (A3) once again put together a successful trade show that was full of energy and provided an educational, multi-faceted look at the current world of automation.
The show brings together the global community of those involved in automation technologies and solutions, including machine vision, robotics, and motion control technologies. Touted by A3 as North America's broadest automation event, this year's show was once again held at Chicago's McCormick Place. In addition to a busy show floor exhibition that offered a look at the latest products and technologies from more than 400 exhibitors. This included demonstrations of the latest robotics, machine vision, motion control, sensors, assembly, and other automation technologies.
Our team at Vision Systems Design set up a full schedule of meetings, with all of us meeting with separate companies, in an effort to speak with as many people as possible. I met with a number of great people from innovative companies such as Microscan, Epson Robots, Mobile Industrial Robots, Universal Robots, Vieworks, Advanced illumination, and Neousys. Throughout the next few weeks, I will be writing and publishing articles based on these conversations.
I also had the chance to sit down with Alex Shikany, Director of Market Analysis for the AIA. During our conversation, we talked about the overall health of the machine vision market, and that even though there were some reports about figures being down last year, we actually ended the year on a high note, which led to the setting of a new all-time high for the machine vision market in North America for the year. Additionally, he expects 2017 to be very strong, with an expected growth rate of about 3% over 2016.
On top of these meetings, I also sat in on a number of presentations in the new Future of Automation theater, which was to the right of the front entrance of the show floor. Here, I saw a number of engaging talks, mainly regarding the impact that robots will have on jobs. In fact, the AIA released a white paper, "Work in the Automation Age: Sustainable Careers Today and into the Future," which goes in depth on the topic of robotics and jobs. Jeff Burnstein, AIA President, discussed this and more, while noting that in the United States from 2010-2016, there were more than 136,748 new robot shipments, 894,000 new jobs, and an unemployment rate that went down 5.1%.
"We believe that more robots equal more jobs," said Jeff Burnstein, A3 President, before going into detail about the themes of the white paper, and how adjustments will have to be made if these jobs are going to be filled. Others echoed this sentiment, including a panel of expertsthat was comprised of people from Amazon, General Motors, ABB, and the Advanced Robotics for Manufacturing (ARM) Institute.
"If we ask ourselves if innovation and automate create jobs, the answer is yes," said Howie Choset, CTO, Advanced Robotics for Manufacturing Institute.
This panel discussed numerous other salient topics, including the reaction that employees may have when their companies introduce robotics at their place of work. Jon Battles, Director, Amazon WW Engineering Advanced Technologies said that at Amazon, his employees do not react as you'd expect.
"Exposing our employees to technology and robotics, it inspires them. Technology and robotics are creating new jobs, and jobs that are going to be really good for people. Career jobs."
In addition to these ideas, the panel discussed Bill Gates' idea for a robot tax, what areas of global manufacturing the US could be leaders in by the year 2030, the impact of robotics on smaller companies, and more. Read more about this discussion here.
Another event that was held in the Future of Automation Theater was our third annual Innovators Awards program, which celebrates the disparate and innovative technologies, products, and systems found in the machine vision and image processing industry. More than 30 companies were present to receive awards in bronze, silver, gold, and platinum levels. View images of the ceremony here.
There is a lot more that could be written about the show, of course, but these were some of the highlights from my experience. On behalf of the Vision Systems Design team, a big thank you to the A3 for another successful show. This is a friendly, knowledgeable, accommodating, and adaptive group of people, and we look forward to attending and seeing you at all shows going forward.
Share your vision-related news by contacting James Carroll, Senior Web Editor, Vision Systems Design

To receive news like this in your inbox, click here.
Join our LinkedIn group | Like us on Facebook | Follow us on Twitter
Learn more: search the Vision Systems Design Buyer's Guide for companies, new products, press releases, and videos