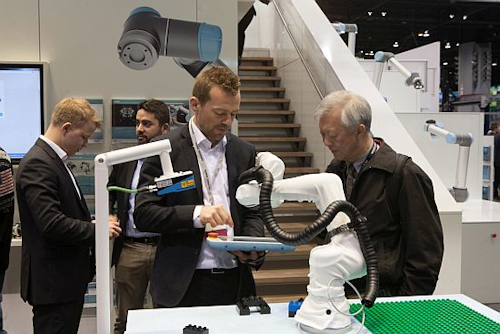 During a conversation I had with Esben Østergaard, CTO of Universal Robots at Automate 2017, we discussed numerous topics, including the increasing popularity of collaborative robots and the future of jobs and robots, and why we shouldn't be nervous about this.
A topic that we spoke about at length was the intersection of vision and robotics. Vision plays an important part in robotics, and recognizing this, Universal Robots offers a number of vision-related products that are ready to deploy onto its various robots through its Universal Robots+ platform (UR+). UR+ is an online showroom that provides a wide range of products to customize a UR robot application to specific needs.
Vision products available through the platform include [M1] the Robotiq Wrist Camera Kit, which is designed especially for Universal Robots and offers plug-and-play vision capabilities. Additionally, UR+ offers a camera from SICK, with software from the company integrated directly into a Universal Robots' robot arm, and the new 3D robot vision system ,"Pick-It." As of now, according to Esben Østergaard, CTO (pictured) there are about 30 UR+ products, but the company is hoping to get it to 100, with "machine vision being a big part of this."
Collaborative robots were a hugely popular topic at the show, and with this being Universal Robots' focus, we talked about this trend a bit. Østergaard explained that he thought that collaborative, or force-limited robots, are so popular because they are disrupting existing business and are growing.
"My personal view is that the market for collaborative robots is larger than the traditional market," he said, citing the disparate applications they can be deployed in, including machine tending and assembly, hospitals, construction sites, and even bars. "There is always new business in new industries, but also in these new, emerging applications as well, which is why it is so exciting."
Collaborative robots, he suggested, also change the way that we look at factory automation by adding the concept of the collaborative robot, which works with human workers.
"Because of growing consumer demands, we need more flexibility, and we can't take people away [from the factory floor], we still need their knowledge," he said. "It is not about replacing people, it is about empowering people to do what they are good at doing, which is not doing the same thing over and over again."
He added, "As soon as you have a tool that is better for the job, it is stupid not to use that tool."
At this point in the conversation, when the topic of robots and jobs were brought up, we decided to explore this a bit more, with Østergaard providing a philosophical stance on the issue.
"Since people starting using technology, even something like the wheel, this sort of replaced jobs, or at least tasks," he said. "But when the wheel was invented, it created more value and allowed people to move to jobs that create more value. That is how our robots empower people."
"Yes," he continued, "some work goes away, but ultimately robots grow business. And with a growing business comes more jobs."
Ultimately, there will be some growing pains when it comes to the introduction of robots into the workplace, but it will be a win for humankind long term, he suggested.
Universal Robots, in an effort to spread this positive message regarding collaborative robots, started the UR Academy, which aims to provide free micro-educations for people to work with robots instead of being replaced by them.
Pictured: CTO and founder of Universal Robots Esben Østergaard discusses the expanding UR+ platform with attendees at Automate 2017 in Chicago. The collaborative UR3 robot displayed has no less than five UR+ products; gripper from OnRobot, force/torque sensor from Optoforce, protective cover from ROBO-GEAR, cable guidance from Igus, and vision camera from SICK.
View more information on Universal Robots.
Share your vision-related news by contacting James Carroll, Senior Web Editor, Vision Systems Design

To receive news like this in your inbox, click here.
Join our LinkedIn group | Like us on Facebook | Follow us on Twitter
Learn more: search the Vision Systems Design Buyer's Guide for companies, new products, press releases, and videos