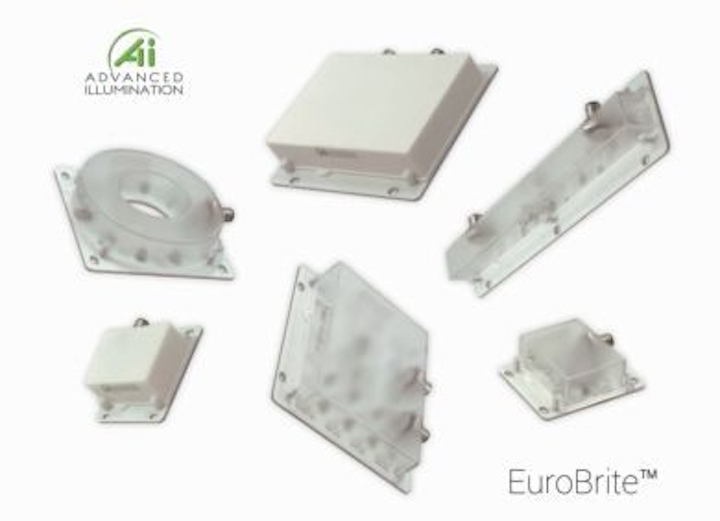 This past April, at Automate 2017 in Chicago, I had the chance to have a conversation with John Thrailkill, Co-founder and CEO of Advanced illumination, during which we discussed his company's machine vision lighting and product development approach, as well as the current state of the factory automation market.
Advanced illumination's EuroBrite™ family of LED lighting (pictured), explained Thrailkill, was developed when a vision partner approached the company and asked about the potential of offering a cost-reduced product line that they could use to replace their current lighting.
"Because of the type of lighting it was," he said, "we felt it would be a good general offering. So as a result, we began offering them as a standard product, and customers are providing very positive feedback."
These IP67-rated lights are available as bar lights, backlights, ring lights, and spot lights, all of which are equipped with the industrial grade Oslon family of LEDs from Osram. In addition to white LEDs, wavelengths are available from 455 to 940 nm. The LED lighting's built-in controller features Adaptive Power™, which maximizes light output in continuous mode, as well as Adaptive Overdrive™, another feature of the built-in lighting controller that provides a maximum output pulse in strobe mode regardless of exposure period.
"One thing I would stress about these is that they are a high-quality build being offered at a lower price point to OEM customers", he said. "This was part of our strategy to offer deeper discounts to OEMs."
Beyond just these products, Advanced illumination does its best to stay ahead of the curve in terms of anticipating market needs, instead of being reactionary.
"Our engineers work with integrators and try to read the tea leaves as best they can," he noted.
In terms of technologies that Thrailkill identified as potential growth areas, he mentioned 3D imaging.
"I really started noticing a major ramp up at VISION 2014, and I have been seeing it more and more," he said. "Hopefully this continues to grow."
Overall, he seemed to be optimistic about his company's prospects and the market in general, while noting how much more often automation is being mentioned in the news at the national level.
"This is certainly something that is gaining more attention beyond just our industry," he said. "People didn't sit around the dining table talking about automation two years ago."
He added, "Automation is here to stay, you can't roll back the clock."
View more information on Advanced illumination.
Share your vision-related news by contacting James Carroll, Senior Web Editor, Vision Systems Design

To receive news like this in your inbox, click here.
Join our LinkedIn group | Like us on Facebook | Follow us on Twitter
Learn more: search the Vision Systems Design Buyer's Guide for companies, new products, press releases, and videos