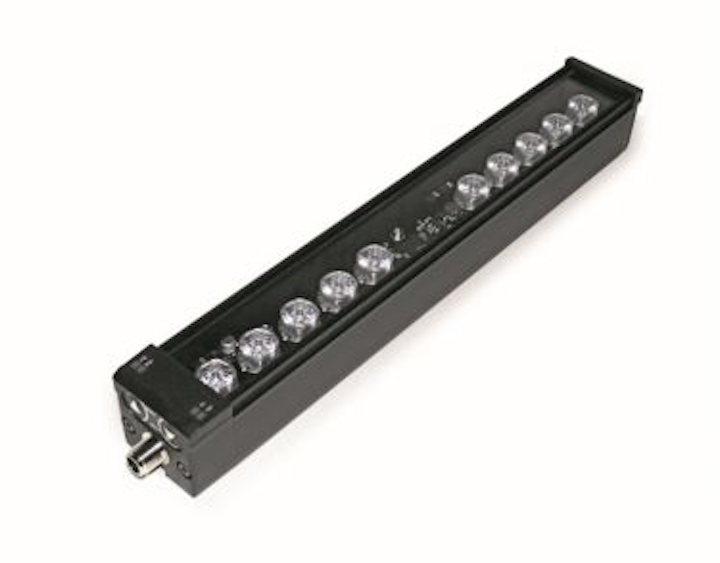 Creating a homogeneous lighting effect across the field of view and eliminating bright spots in the middle of images is the new EBAR CURVE from TPL Vision. Users can adjust the brightness of the light manually to fit an application and lock the setting into place. The new LED light is IP65 rated and, according to the company, reduces the lead time to project completion. One of the main highlights of the new product, according to the company, is the fact that the machine visionbar light will illuminate the entire surface of the field of view, thus enabling users to get a bar light with the same dimensions as of the FOV. The EBAR CURVE light targets machine vision applications such as parts inspection, code reading, absence/presence verification and sorting.
The Vision Show 2018: 752
To Learn More:

Contact:TPL VISION
Headquarters: La Chevrolière - France
Product: EBAR CURVEmachine vision bar light
Key Features: 24 VDC ±10% power supply, white LED lights,CURVE effect, IP65 rating, increases homogeneity and controls brightness across FOV.
What TPL VISION says:
View more information on the EBAR CURVE.

View More Products| Locate a vendor or system integrator | Receive e-mail updates
Share your vision-related news by contacting James Carroll, Senior Web Editor, Vision Systems Design

To receive news like this in your inbox, click here.
Join our LinkedIn group | Like us on Facebook | Follow us on Twitter