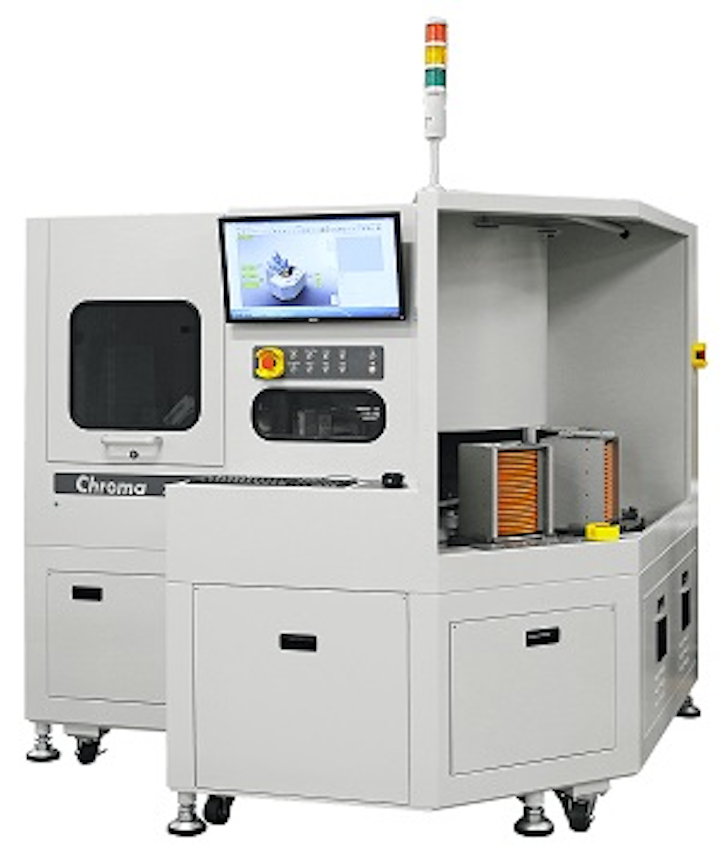 Chroma ATE will showcase two turnkey machine vision systems—one for wafer chip inspection and one for optical measurement—at SPIE Photonics West 2018.
The wafer chip inspection system, the Chroma 7940 (pictured), features two 25 MPixel color cameras and is an automated inspection system or postdiced wafer chip inspection. The system can inspect both top and bottom view of the wafer chip simultaneously, and with high-speed camera and inspection algorithms, the system can inspect up to 6" wafers in 3 minutes with a throughput of up to 15 msec/chip.
Chroma ATE's Model 7505-05 multi-functional optical measuring system features high-resolution industrial cameras and 3D laser scanners and is designed to automatically test the optical image quality of smartphone metal cases, batteries, cover glasses, and other products. The system is equipped with a patented high-speed flow channel measurement technology and has several cameras and laser scanners inside.
SPIE Photonics West 2018 booth number: 2537
To Learn More:
Contact:Chroma ATE Inc.
Headquarters: Irvine, CA, USA
Product: Model 7940 and 7505-05 machine vision systems
Key Features: 25 MPixel color cameras, 6" wafer/8" inspection area, detection rate >99% (Model 7940), 2D and 3D measurement technology, maximum measurable area approximately 160mm x 145mm x 16mm (Model 7505-05).

What Chroma ATEsays:
View more information on the Model 7940.
View more information on the Model 7505-05.

View More Products| Locate a vendor or system integrator | Receive e-mail updates

Share your vision-related news by contacting James Carroll, Senior Web Editor, Vision Systems Design

To receive news like this in your inbox, click here.
Join our LinkedIn group | Like us on Facebook | Follow us on Twitter