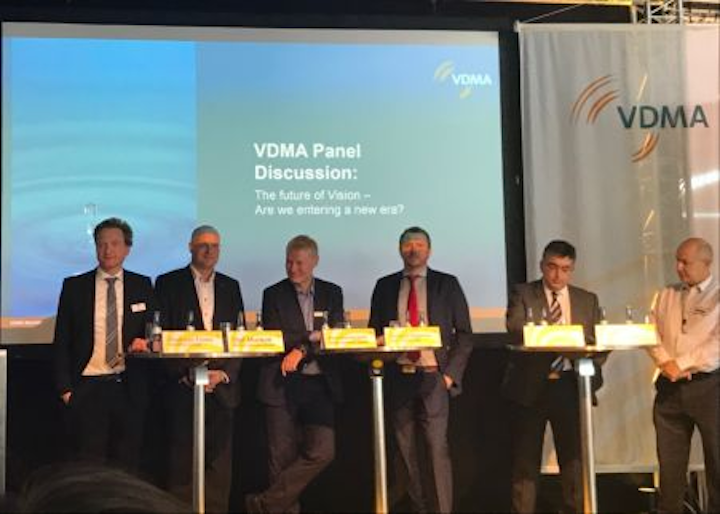 This was the question posed to a group of machine vision experts at a VDMA panel discussion at Industrial VISION Days at the VISION show on November 6. Spoiler alert: The answer is yes.
Technologies such as embedded vision, 3D imaging, hyperspectral imaging,deep learning, and vision standards—which are featured prominently throughout the exhibition—are reaching market maturity and are enabling a growing number of new applications for image processing. Joachim Hachmeister, inspect magazine, posed questions on the various topics to a panel that included the following participants (Pictured, left to right):
Andreas Franz, CEO, FRAMOS, Taufkirchen, Germany
Klaus-Henning Noffz, CEO, Silicon Software, Mannheim, Germany
Olaf Munkelt, Managing Director, MVTec Software, Munich, Germany
Christian Ripperda, Vice President / Technology Director, ISRA VISION, Darmstadt, Germany
Bahram Torabi, Senior Vice President Research & Development | Industrial Integration Space, SICK, Reute, Germany
Mark Williamson, Managing Director, Stemmer Imaging, Tongham, Surrey, United Kingdom
Here is what the panel had to say on the following topics:
Embedded vision: When asked if embedded vision really changes machine vision, Andreas Franz replied yes, noting that new price and performance capabilities, along with processing power on the edge and in the cloud, are opening up new applications. Franz provided the example of a refrigerator manufacturer. Eight years ago, he noted, putting a camera into a refrigerator may cost up to $800 or so, but now, this can be accomplished by as little as $50-60.
3D imaging: Is 3D imaging finally leaving the "niche?" In short, yes, according to Christian Rippperda. 3D applications are becoming faster and more robust and are opening new applications where 2D has struggled in the past. Parts comparison, for example, is an application that will benefit from 3D imaging over previous 2D techniques.
Hyperspectral imaging: Mark Williamson of Stemmer Imaging, which recently acquired shares in hyperspectral imaging company Perception Park, cited hyperspectral imaging as a logical evolution of cameras in the past. Going from monochrome, to color, to 3D, to spectroscopy devices, to hyperspectral, makes logical sense, according to Williamson.
Previously, there were a lot of specialist companies working on niche hyperspectral imaging applications that took a lot of time and could be very expensive. Today, solutions such as those from Perception Park have made it significantly easier to acquire hyperspectral images. Hyperspectral imaging will never replace machine vision, but it adds a very useful new layer to it, said Williamson.
Deep learning: Deep learning technology was recently added to MVTec's HALCON machine vision software. When asked if deep learning technology has rightfully earned its place as one of the market's biggest buzzwords, Olaf Munkelt noted that it isn't necessary a new technology, but computational power has really led to its emergence as a hot topic.
"Twenty-five years ago or so, people may remember two-layer neural networks that were used. When using these, however, we'd run out of computational power. Advances in computational power is really what is enabling new deep learning capabilities."
He stressed, however, that deep learning is not the "holy grail" of machine vision, but instead is a very valuable technology and tool that presents great opportunities in machine vision, but the market needs to identify the ripe opportunities and learn more.
Standards: When asked about the importance of standards, Klaus-Henning Noffz added to the previous discussion of deep learning, noting that deep learning is a very disruptive technology that opens new opportunities in machine vision. The problem is, how can you collect all of this data and turn it info useful information for the production line? Industry 4.0 technology and communication standards such as OPC Vision, according to Noffz, is the answer.
More on OPC Vision: The goal of the OPC UA Companion Specification for Machine Vision (OPC UA Vision, for short), is to integrate anything from image processing components up to entire image processing systems into industrial automation applications, with the hope of enabling machine vision technologies to communicate with the entire factory. With the standard, a generic interface is being created for image processing systems at the user level, including semantic description of image data.