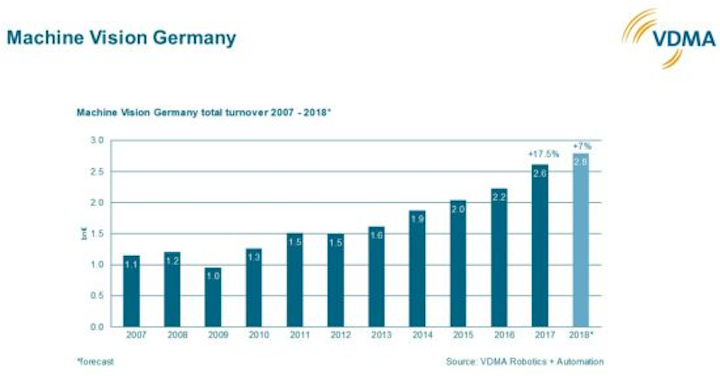 Now more than ever, machine vision is thriving both in terms of sales figures and global deployment. In 2017—for example—the German machine vision market saw record sales of 2.6 billion euros, a figure that represents 17% growth over the previous year. The VDMA has introduced a report, "Machines with eyes wide open," that highlights why machine vision is so important and successful today.
As part of its "Humans Machines Progress" project, the report provides insights into the world of machine vision, showing parallels between machine vision and human vision, as well a glimpse into the history and development of machine vision. The VDMA's report also provides several examples of how image processing is already enabling new possibilities in nearly all aspects of life, and how "seeing machines" will continue to improve our lives going forward.
"Machine vision as a driver of Industry 4.0 has become an indispensable part of the modern factory. Machine Vision technology has already conquered our everyday lives. Whether traffic management systems, autonomous driving, waste separation and recycling or health care – machine vision makes it possible. Embedded vision in combination with deep learning sets further growth stimuli," said Dr. Olaf Munkelt, CEO MVTec Software GmbH and Chair of the Board of the VDMA sector group Machine Vision.
Indeed, machine vision continues to grow around the globe. VDMA forecasts show that the machine vision market may grow by 7% to 2.8 billion euros in 2018, even following the record year-on-year sales growth in 2017. Additionally, the AIA reports that sales of machine vision components and systems in North America grew 19% in the first quarter of 2018 to $709 million, which represents a new record for quarterly sales. This also follows a record setting year for the North American machine vision and imaging market, which saw financial transactions grow 14.6% over the previous year to $2.633 billion.
Global growth in machine vision is expected to be evident at VISION 2018, which takes place November 6-8 in Stuttgart, Germany. More than 460 exhibitors will participate in the show, with approximately 25% of these being first-time exhibitors at the show. Additionally, the trend towards internationalization continues, as more than 60% of exhibitors at VISION come from aboard, compared to 57% in 2016
View the VDMA report.
View more information on VISION.
Share your vision-related news by contacting James Carroll, Senior Web Editor, Vision Systems Design

To receive news like this in your inbox, click here.
Join our LinkedIn group | Like us on Facebook | Follow us on Twitter