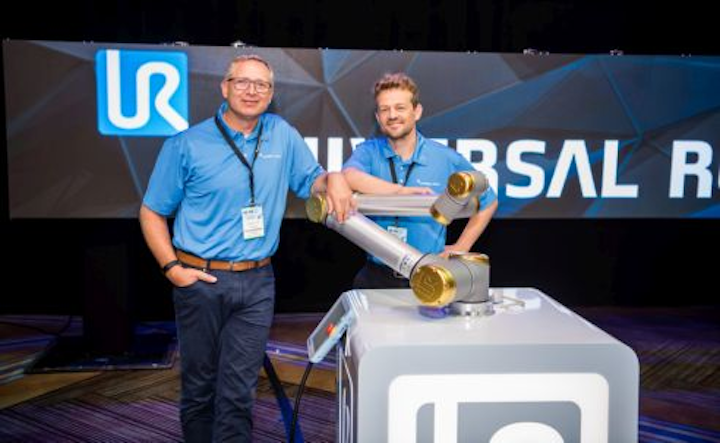 Collaborative robot manufacturer and pioneer Universal Robots has sold its 25,000th collaborative robot (cobot) since selling the first cobot in 2008. To commemorate the occasion, Universal Robots delivered the robot—which was sold to Kay Manufacturing—in a special gold-edition model.
Having sold 25,000 collaborative robots—which the company says is more than all its competitors combined—Universal Robots held a press conference on September 10 in Chicago at IMTS, the nation's largest manufacturing trade show. Jürgen von Hollen, President, commented.
"With this event, we celebrate not just the success of Universal Robots in empowering customers, but also the successes of our customers in innovating and changing their workplace with collaborative robots," said von Hollen. "The Gold Edition Cobot reflects our continued commitment towards making the unlimited potential of robotics accessible for all."
Kay Manufacturing plans to use the collaborative robot for end-of-line tasks, packaging and palletizing parts off a conveyor. The company had been looking into automation after it received an order that doubled its production output to over a million pieces per year. When building a traditional automation cell looked to be too costly and time consuming, the team looked into collaborative robots from Universal Robots.
"We quickly realized that UR cobots were the most cost-effective option, requiring the least amount of technical resources," said Pelke, who estimates that each UR robot helps save $150,000 in annual labor costs. "UR has an impressive user interface and was easy to learn and to cross train all of our personnel."
He added, "The cobots didn't replace any employees, we were able to meet increased production demand with our existing work force, and we saved twenty minutes of operator time per hour, all while improving our ergonomic work environment and freeing up our staff to handle more value-added tasks."
In other news, Esben Østergaard, CTO (pictured above, on the right, next to Jürgen von Hollen), was the recipient of the Engelberger Robotics Award for Technology. On winning the award, Østergaard told Vision Systems Design:
"Somehow, I think I'm too young for this. But I promise to do more. I'm not done yet. Mostly I'm proud of being a part of changing industrial robots from being these big machines sitting behind fences doing the same thing over and over again, to becoming flexible tools that any worker with no robotics experience can pick up and safely use in a collaborative fashion."
In the Q&A, Østergaard also discusses the rise of collaborative robots, the role of machine vision in cobots, applications in which collaborative robots are being deployed, and more.
View the Q&A article here.
View more information on Universal Robots.
Share your vision-related news by contacting James Carroll, Senior Web Editor, Vision Systems Design

To receive news like this in your inbox, click here.
Join our LinkedIn group | Like us on Facebook | Follow us on Twitter