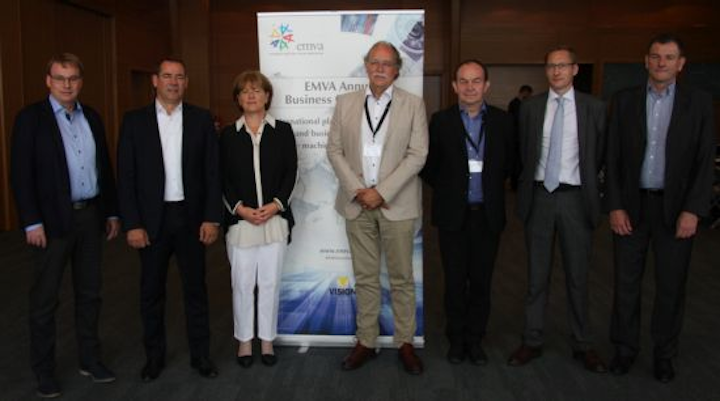 Prior to the start of the 16th European Machine Vision Association (EMVA) Business Conference, the General Assembly of the EMVA elected a new board of directors for the upcoming three-year term.
Elected on June 7 in Dubrovnik, Croatia, the new panel consists of nine members, which is two more than the previous election period. The newly-elected board features three first time members: Dr.-Ing. Dirk Berndt, Business Unit Manager, Fraunhofer IFF - Institute for Factory Operation and Automation and representative of the Fraunhofer Vision Alliance; Arnaud Destruels, European Product Marketing Manager for ISS (Image Sensing Solution) a division of SES (Sony Semiconductor & Electronic Solution), division of Sony Europe Ltd.; and Dr. Chris Yates is the Director of Advanced Technology at the Safety, Sensing, and Connectivity Business Unit of Rockwell Automation Inc.
Previous board members were also reconfirmed: Dr. Jean Caron (Euresys); Jochem Herrmann (Adimec); Prof. Dr. Bernd Jähne (Heidelberg Collaboratory for Image Processing of Heidelberg University; Gabriele Jansen (Vision Ventures); Dr. Kai-Udo Modrich (Carl Zeiss Automated Inspection); and Michel Ollivier (Tiama). Former board member and EMVA President Toni Ventura-Traveset (Datapixel, Spain) has resigned from the board to concentrate on increased responsibilities in his company.
Additionally, Jochem Herrmann has again been elected as EMVA President and will serve the association for another three year period, while Michel Ollivier has been confirmed as EMVA Vice President, and Dr. Jean Caron remains the associations´ treasurer.
Pictured: The new elected EMVA Board of Directors, from left to right: Dr.-Ing. Dirk Berndt; Dr. Kai-Udo Modrich; Gabriele Jansen; Jochem Herrmann (EMVA President); Michel Ollivier (Vice President); Dr. Chris Yates; Dr. Jean Caron (Treasurer); missing in the picture: Prof. Dr. Bernd Jähne; Arnaud Destruels.
View more information on the EMVA.
Share your vision-related news by contacting James Carroll, Senior Web Editor, Vision Systems Design

To receive news like this in your inbox, click here.
Join our LinkedIn group | Like us on Facebook | Follow us on Twitter